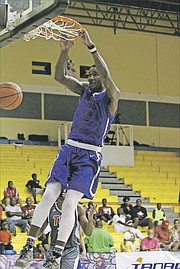 By RENALDO DORSETT
Sports Reporter
rdorsett@tribunemedia.net
DEANDRE Ayton made history last month as the first Bahamian on the McDonalds-All American boys' basketball team and was recently honoured by the organisation as they continued to make their tour around the United States to recognise the awardees.
Ayton received his honourary McDonald's All-American jersey as the McDonald's Hometown Heroes presented by American Family Insurance made its stop at his Hillcrest Academy campus in Phoenix, Arizona, on Tuesday.
His family was in attendance at the ceremony and Ayton placed his selection in perspective for both his family and for the country.
"They enjoyed themselves and they took a lot of pictures. It's big (to be selected)," he told USA Today High School Sports, "To be in among the names up there with guys like Michael Jordan is amazing. I just want to keep on going and make history for my nation and my family as well."
Ayton, the consensus No.1 player in the class of 2017 and commit to the University of Arizona, will headline the 40th edition of the game to be hosted at the United Center in Chicago, Illinois, on May 29.
He follows current University of Texas guard and Harbour Island native LaShann Higgs, who was named to the girls' roster in 2015.
Ayton said he wanted his two-year tenure at Hillcrest to be remembered long after he graduates.
"I hope people will know that one of the best players came through here and that I've left my mark with a goal to always be a role model," he said. "Hillcrest Prep has helped me with the competitiveness that I can bring to Arizona and always knowing to play hard and not take plays off. Even when you think no one is watching, somebody always sees you."
Ayton was the only Arizona commit named to the list of the top 24 high school players in the United States.
His West team will include other top players such as Gary Trent Jr (Prolific Prep/Duke), Brian Bowen (la Lumiere/Undecided), Troy Brown Jr (Centennial/Oregon), Trae Young (Norman North/Oklahoma) and Brandon McCoy (Cathedral Catholic/Undecided), who all appeared in the Nike EYBL Bahamas exhibition game this summer.
The East team also includes Nike EYBL Bahamas alumni, including Mohammed Bamba (Westtown/Undecided), Wendell Carter Jr (Pace Academy/Duke), Quade Green (Neumann-Goretti/Kentucky), Mitchell Robinson (Chalmette/Western Kentucky), Collin Sexton (Pebblebrook/Alabama), Lonnie Walker (Reading/Miami0, PJ Washington (Findlay Prep/Kentucky), and Jarred Vanderbilt (Victory Prep/Kentucky).
The University of Kentucky Wildcats have four signees in the game while 12 universities will be represented and seven players are still uncommitted.
 "I want to go out there and have fun and represent the West as best as we can as a team," he said. "And I want to enjoy myself. I don't want it to go by too fast and not rush anything."
As for competing against the top players in the country attached with the lofty expectation of a No.1 overall ranking, Ayton said he has become accustomed.
 "I got used to it," he said of the rankings. "I didn't really pay attention to it or put it in my mind about being the No. 1 player. I just know I have a big chip on my shoulders at all times. People are always going to come at me and I just need to be humble. Anything can shift on you. One day they love you, one day they hate you. I just have to be neutral and stay grounded."
The McDonald's All-American Game is an All-Star game for American and Canadian boys and girls high-school basketball graduates. Consisting of the top players, each team plays a single exhibition game after the conclusion of the high-school basketball season, in an East vs West format.
Several Bahamian players have received McDonald's All-American nominations in the past. However, Higgs was the only Bahamian player to advance to the final stage in the selection process, which begins with hundreds of players nationally in the United States.
As part of the annual event, boys also compete in a slam-dunk contest, a three-point shooting competition and an overall timed skills competition.
The girls compete in the three-point shooting competition and the overall-skills competition. The boys' game has been contested annually since 1978, and the girls' game has been played each year since it was added in 2002.