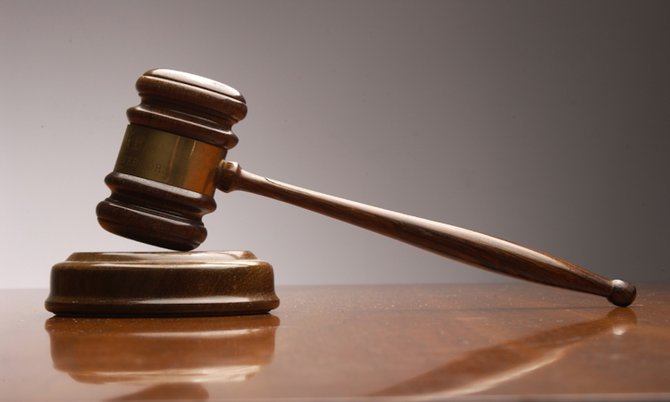 By LAMECH JOHNSON
Tribune Staff Reporter
ljohnson@tribunemedia.net
A MAGISTRATE refused a lawyer's request yesterday for his client to be discharged of gun and ammunition smuggling charges after a near two-year delay in the start of trial.
Kenton Roberts, 39, and attorney Murrio Ducille appeared before Chief Magistrate Joyann Ferguson-Pratt for the expected start of Roberts' trial concerning charges of possession of ammunition with intent to supply and importation of firearms and ammunition.
Prosecutors allege that Roberts imported a Sig Sauer P250 .40 pistol, a Glock 27 pistol and an Intratec luger 9mm pistol on June 8, 2015.
On that same date, Roberts allegedly imported 60 rounds of 7.62 ammunition; 50 rounds of .45 ammunition; 50 rounds of .44 ammunition; 157 rounds of 9mm ammunition; 100 rounds of .223 ammunition; and 100 rounds of .38 ammunition.
Roberts, however, denied the allegations against him when arraigned before Magistrate Andrew Forbes on June 18, 2015.
The matter was transferred in September 2016 to Magistrate Constance Delancy, who presided in court nine for a time before Chief Magistrate Ferguson-Pratt returned in November from serving as an acting justice in the Supreme Court.
However, no evidence had been taken in the case since his arraignment due to the absence of prosecution witnesses.
When the matter was called yesterday, police prosecutor Sgt Timothy Saunders asked for an adjournment, indicating that he was instructed that the Office of The Attorney General will now being prosecuting matters where an importation allegation arises.
Mr Ducille expressed his displeasure at the request for another delay as his client, who travels from Exuma to the capital, had attended every court date given.
He further asked the court to discharge his client for want of prosecution.
The chief magistrate agreed with Mr Ducille that it was unacceptable that the matter had not yet been heard in almost two years.
However, she did not grant the defence attorney's request and adjourned the matter to April 20.
She urged the police prosecutor to ensure that there is no further delay with the matter.