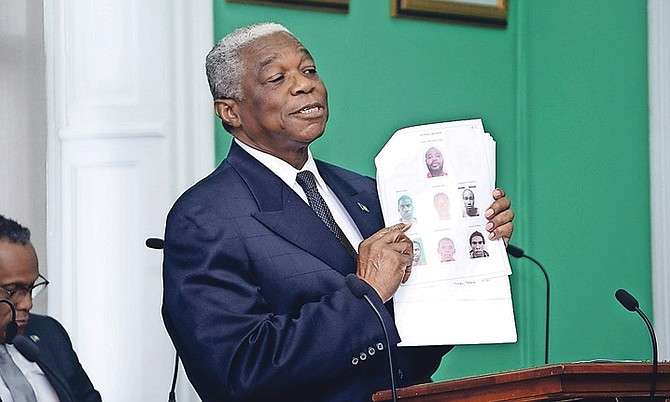 By KHRISNA VIRGIL
Deputy Chief Reporter
kvirgil@tribunemedia.net
WHILE murders in the country continue to escalate at an alarming pace, National Security Minister Dr Bernard Nottage announced several anti-crime strategies including "lockdowns", mobile police vans and an armed forces partnership as he admitted the killings are affiliated with people connected to "gangs, drugs and guns".
Dr Nottage also said intelligence has suggested that there are connections between many violent incidents on the streets of New Providence and inmates at the Bahamas Department of Correctional Services and recently released prisoners.
This comes as eight people have been killed since Friday, taking the country's murder count to 28 for the year. The latest victim, a woman, died in hospital in Grand Bahama on Tuesday.
The rise in murders also led Prime Minister Perry Christie to liken the situation to the "Wild West" earlier this week as he said the recent wave of murders in the capital must solicit a "major" and "continuous" effort by his administration to "flood the streets" with officers in a bid to do "all that is necessary to bring this madness to a halt".
Speaking of the gang problem Dr Nottage said: "We have the One Order gang, we have the Mad Ass gang (and) some of these gangs have sub-groups in them. I am a little reluctant because some of these people may get high or I may be considered to be promoting their existence but the truth is you cannot deny that they exist because they do exist and it is affecting our people and we must do something about it."
He also named the Monster Nation Section of the Dirty South gang, the Kemp Road Order and the Tiger Nations as he referred to leaders of these groups who are behind prison bars, saying a small group of thugs would not be allowed to ruin the country's future.
In response to this scourge of deadly violence brought on by these criminal organisations, Dr Nottage said nearly a dozen crime-fighting strategies will be implemented with immediate effect.
"I want to put it in clear context so that members of the public will have a better understanding of exactly what has been taking place," Dr Nottage told parliamentarians yesterday. "Police officials are fully aware that these incidents mostly involve a small group of prolific violent offenders, some of whom were on bail for serious violent crimes.
"Most of these incidents have their nexus in ongoing feuds between persons affiliated with gangs, guns and drugs. In fact some of these persons may be wanted perpetrators today and become a murder victim tomorrow.
"As we all are aware, a number of the suspects have been charged in some of these incidents and others are being sought and can be expected to be taken into custody and charged shortly. You should also know that due to intelligence and proactive police operations, several would-be murderers have been prevented.
"Not surprisingly, these incidents have raised the fear of crime in members of the public, who use homicides as the barometer by which the level of crime is measured. Each murder is one too many and we must do everything in our power to ensure that crime in general and homicides in particular continue to be addressed comprehensively."
Crime fight
He said given the ongoing crime situation, the government had to take urgent steps to prevent these acts. He said this must involve a greater police presence through targeted and focused police actions.
He said the strategies include:
• increased foot patrols in inner cities and crime hot spots;
• the activation and placement of specially designed mobile police vans to serve as manned police stations in communities where crime is a challenge for police;
• aggressive stop and search of suspicious persons and suspicious vehicles throughout all policing divisions;
• periodic road checks at various intersections;
• purposeful lock downs of communities and crime hot spots where large teams of law enforcement officers execute search warrants, arrest warrants and search for illegal drugs, firearms and stolen vehicles;
• implementing larger Urban Renewal teams for the improved surveillance of crime hot spots;
• Royal Bahamas Police Force and Royal Bahamas Defence Force joint operations;
• a closer working relationship between the police and the Bahamas Department of Correctional Services;
• dedicated teams of police officers to ensure all persons being electronically monitored comply with bail conditions;
• the expansion of the CCTV system by increasing the number of cameras throughout New Providence to be manned on a 24-hour basis.
Several other medium-term strategies are also being implemented, Dr Nottage said.
"The establishment of a violent prolific offenders initiative in which the most violent offenders will be targeted, swiftly prosecuted and severely punished if they are found guilty," he said,
"We are making full use of all of our law enforcement agencies to address this crime issue as each of them bring skills, expertise and resources that can be tapped into to assist with crime prevention and detection (with) the establishment of a gun interdiction task force.
"The task force will be made up of members of the Royal Bahamas Police Force, the Royal Bahamas Defence Force, the Department of Corrections, the Bahamas Customs Department and the Immigration Department to protect our country and its borders. They will be mandated to effectively reduce the influx of illegal weapons including firearms and ammunition in the country.
"I wish to send a strong warnings that in all cases in which persons have been charged with possession of an illegal firearm and/or ammunition, the prosecution will be objecting to bail.
"The establishment of violence breakers throughout high-risk communities who will serve as positive mentors for at-risk youth. Violence breakers are reformed offenders who have completed specialised training to assist their communities by steering selected youths away from becoming involved in crime."
Dr Nottage said the proliferation of gangs in New Providence is "real". He told the House of Assembly that these criminal enterprises are impacting communities, the prison and some schools. He said the government would not allow a small group of thugs - who have demonstrated that they are not interested in changing their ways - to ruin the country's future.
"We will enforce the new anti-gang law that we passed in 2014. Persons convicted of an offence under this act are liable to a fine of $500,000 and to imprisonment for 20 years.
"Very often we have situations where people receive fines and or periods of incarceration less than the law permits, but it is our hope that those who have that responsibility will take into consideration the havoc that gang members in carrying guns, in protecting drugs and turf that are influencing our young men and our young women and school children. They have to be stopped.
"One thing we know is when we have them in prison the incidents of shootings and the violent crime does go down."