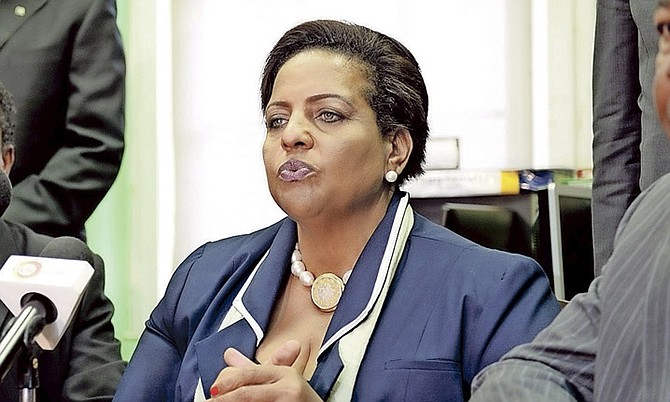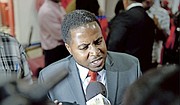 By KHRISNA VIRGIL
Deputy Chief Reporter
kvirgil@tribunemedia.net
OFFICIAL Opposition Leader Loretta Butler-Turner yesterday "rejected outright" Free National Movement Long Island candidate Adrian Gibson's suggestion that The Bahamas should consider adopting a Right-To-Carry law, as she questioned whether the FNM shared this position.
Earlier this week, Mr Gibson said while society is being gripped by "ghoulish" criminal activity that has crippled the nation, the Bahamas should follow the example of some US states where applicants who meet prescribed criteria - including psychological examinations are issued permits to carry concealed handguns. He made the comments in a Facebook post and said they were his personal views.
However the current Long Island MP disagreed, insisting that the matter goes beyond the ability to pass a psychiatric evaluation.
She further denounced Mr Gibson's proposal saying statistical and anecdotal evidence suggested that this does not do anything to decrease serious crimes or murder. To the contrary, she said, there are likely to be increased suicides, domestic related murders and intimidation by those perceived to carry firearms.
Their differences in opinion came after National Security Minister Dr Bernard Nottage announced several anti-crime strategies including "lockdowns", mobile police vans and an armed forces partnership in response to skyrocketing murder numbers. He admitted on Wednesday that the killings are affiliated with people connected to "gangs, drugs and guns".
Eight people have been killed since Friday, taking the country's murder count to 28 for the year. The latest victim, a woman, died in hospital in Grand Bahama on Tuesday.
"As leader of the Official Opposition, I outright reject the suggestion by the FNM candidate that we should become a gun-toting, armed citizenry," Mrs Butler-Turner said in a message to The Tribune. "I am reminded that very early in this PLP administration the suggestion that there may have been certain Cabinet ministers who were armed for their personal safety sent shock waves throughout our country.
"The safety of citizens and visitors is paramount to good governance. It is the responsibility of us all. The notion that armed citizens will enhance safety and orderliness in our communities must be totally rejected."
She also said: "Having read a statement allegedly penned and attributed to Adrian Gibson, the newly ratified FNM candidate for Long Island, l ask a most pertinent question: Is this a plank of Free National Movement's plan to eradicate crime in our society? Constitutionally and morally, is this a realistic position being espoused by reasonable and responsible individuals seeking to lead our Bahamas?
"Statistical and anecdotal evidence suggests that societies where private citizens have a right to bear arms there is not a decrease in serious crimes or murder.
"On the contrary, there are indications of increased suicides, domestic murders and intimidation of others by individuals who are perceived to be armed.
"The responsibility of gun ownership goes far beyond the analysis of whether an adult has the capacity to pass a psychological test. Case in point: just two weeks ago a young Bahamian student was found with a handgun in his possession at school. Who did this gun belong to?
"A few weeks prior, a former trained military officer opened fire on innocent unsuspecting passengers in Fort Lauderdale (at the airport) killing and injuring numerous persons."
She said there are far too many instances of persons being held hostage and even being executed en masse by private citizens who simply "flip" or "lose it".
"Is this what Mr Gibson is advocating for on behalf of the people of Long Island and the wider Bahamas? I believe that Bahamians must demand of our government and leaders the fundamental right to law, order and justice in an environment free of the pervasive fear of crime."
On Tuesday, Mr Gibson advocated the need for right-to-carry law on his personal Facebook page. He said with the proliferation of violent crimes and murders throughout the nation, Bahamians have grown accustomed to operating in survival mode.
"Certainly, my son and so many children - who are the up-and-coming generation of Bahamians - should not inherit this new atmosphere of fear and apprehension. These kids should not be forced to live in homemade prisons, walled in and protected by steel bars," Mr Gibson said.
"These children should be just as free and unbothered as I was when I ran around and played as a child growing up in Long Island.
"Given the above, it is my personal view that we should consider adopting a Right-To-Carry law, much like the United States where applicants who meet prescribed criteria (including psych exams) are issued permits to carry concealed handguns. My personal view is that restrictive government policies should not be allowed to trample upon people's right to protect themselves."
He added: "As a licensed shot gun owner myself, it sends shivers down my spine to know that a shot gun has almost become obsolete as a protective measure for businessmen and homeowners, particularly when one considers that the criminal element has handguns capable of firing numerous rounds, AK-47s and other powerful weapons that have no limitations and does not need to be reloaded as a shot gun must be after five to eight shots (depending on type)."
"Indeed, responsible citizens could be assessed on a case by case basis and should be equipped to protect themselves as necessary or appropriate. While we pretend that there's no real threat, the crime statistics clearly show that we're walking down the same road as has already been travelled by so many of our Caribbean counterparts, where crime is out of control. We should learn from the experiences of our Caribbean sister countries and try to preempt hijackings and kidnappings for ransom, which could potentially be the next step for the criminal element," he said.