AS part of the build-up to the CONCACAF championships, today The Tribune wraps up a look at the players who will represent the Bahamas, featuring the last two profiles of the team members: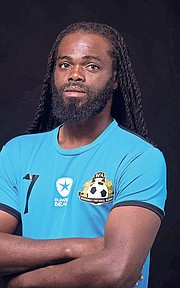 Name - Nesly Jean
Age - 32
Position - Striker
Jersey number - 7
Height - 5ft 8in
Profile - Nesly joined Bears FC, of the New Providence Soccer League, at six and progressed through the teams until becoming a starter at 14 with the senior men. At the end of that season, Nesly was awarded the BFA Youth Player of the Year. Nesly then travelled to Europe, where he had trials with English Premier League team Southhampton FC and Dutch Eredivisie powerhouse, Feyenoord of Rotterdam, at youth level. In the summer of 2000, Nesly joined the Tampa Bay Mutiny of Major League Soccer (MLS), playing with their youth team and getting to train with such luminaries as Colombian international, Carlos Valderrama, and MLS leading scorer, Mamadou Diallo.
In 2001, Nesly joined the youth team of US second division outfit Richmond Kickers and spent three summers in Virginia before moving to top youth club, South Jersey Elite Barons, in the summer of 2004.
In the fall of 2005, Nesly had trials with Trinidad and Tobago Pro League team, Joe Public FC.
Domestically, Nesly has won more than 10 league championships with Bears FC and numerous MVP awards. On the international stage, Nesly has represented the Bahamas at all age levels, from under-15 to senior men, and has played in four World Cup qualifying cycles.
He has captained both his club team and the Bahamas men's national team. In 2009, Nesly was selected to represent the Bahamas at the CONCACAF Beach Soccer qualifiers as part of the first Bahamas national beach soccer team. This year will mark the fifth set of CONCACAF qualifiers he has participated in. Nesly credits former local players Randy Rodgers, Nesly Poteau and Lionel Haven as well as former BFA technical director Gary White for helping cultivate his talent and self-confidence as a soccer player and grateful to have had the opportunity to play under three of the top beach soccer coaches in the world. As well as playing for the national grass team, Nesly is still a regular player on the Bahamas national beach soccer team.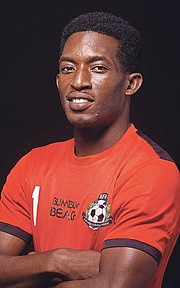 Name - Torin Marcellous
Ferguson
Nickname - Bats
Age - 31
Position - Goalkeeper
Jersey Number - 12
Height - 5ft 8in
Profile - Torin started playing soccer in 2001 for Temple Christian Senior High School as a defensive midfielder but he found the love for goalkeeping in his final two years there. He started training with the BFA "Centre of Excellence" in 2002 and was named team captain for his high school the same year. That year he led the team to a pennant winning season.
Torin went on to play for East End FC and FC Nassau, winning the 2nd division championship in 2003. In 2004 he started playing for Bears FC, winning numerous championship titles. In 2009 he started playing beach soccer and was the starting goalkeeper with national team. When not playing, Torin works at Albany and loves spending time with his wife and children. Torin is still a regular player on the Bahamas national beach soccer team. He says - "Never settle, always strive to be the best"