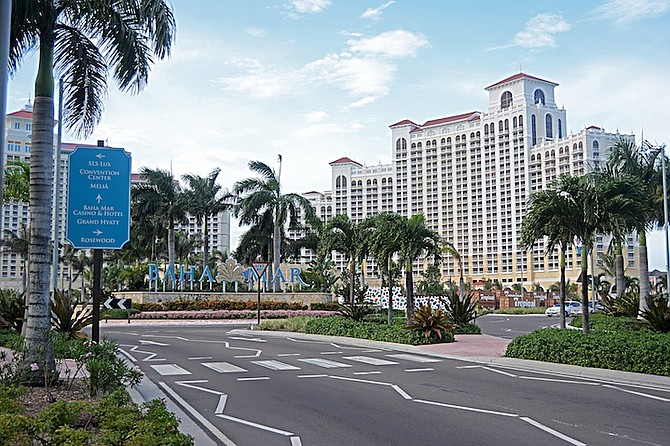 By KHRISNA VIRGIL
Deputy Chief Reporter
kvirgil@tribunemedia.net
ON THE heels of a murder spree in the capital, Graeme Davis, Chow Tai Fook Enterprises (CTFE) Bahamas president, yesterday suggested that if the Christie administration is unable to control crime, the country's tourism product could be headed in a negative direction.
The Baha Mar executive said it is his hope that by getting Bahamians back to work, the resort would have done its part in helping to curb escalating violent crime.
Mr Davis also said he and other businessmen in New Providence are concerned about the inability of the government to properly remediate the city's landfill.
Frequent fires have been a vexing issue at the dump for years, with the site sometimes emitting thick, toxic black smoke extending for miles outside of its perimeter.
He made the comments as a guest on radio talk show "The Revolution" with host Juan McCartney.
"I think crime impacts every touristic destination and I think we should all be very, very mindful of how crime can have an impact to really turn an economy in a negative direction," Mr Davis said.
"I've worked in some very sensitive environments whether it be the Virgin Islands, whether it be Puerto Rico (or) Mexico where I have lived and worked. Crime and those types of actions can certainly have a negative impact on our industry. I think all of us in the community should do all that we can in every initiative we have to make sure that crime decreases and we do take the actions.
"However we can help, certainly putting people back to work and creating a couple thousand jobs and then growing to that 5,000 jobs, I think it will have a positive impact. I think that will help in some way. I think education and certainly working with the private and public sector together we'll do our part, but it does take a community to make sure we are heading in the right direction."
Asked if he was worried about the frequent fires at the city dump in western New Providence, Mr Davis said: "I just noticed it recently and it's a concern and it should be a concern for all of us to make sure that those responsible for finding a solution do that very quickly because I think that impacts all of us.
"It's not just Baha Mar, but it impacts other resorts that are in the area. There are other developments that are in the area and as that wind blows it has a negative impact on all of us and it needs to be addressed.
"I mentioned it as well and I think it is in all of our interests to make sure that we find a permanent solution to the issues of the dump when it comes to the toxic fumes that are coming out of it. There is a committee being put in place and we all expect action as good business owners and residents we demand it," he said.
Mr Davis also moved to clarify recent comments he made to international journalists regarding the sale of the $3.5bn West Bay Street project earlier this month. At the time he said that Baha Mar will open without its sale being completed.
"Well it's a great conversation and certainly an interesting topic and let me clarify," he said.
"We (CTFE) are the owners of Baha Mar. We are going through a, as with any large transaction of this magnitude, there are phases to that transaction. I don't want to get involved or listen to politics, I try not to and I certainly don't get involved in politics. Certainly I think what's most important to understand is the transaction is in process, definitive agreements have been signed. We are the new owners, but through that there is a phased process just like when you buy a new house. You put down your deposits in the middle of a construction, you're the owner, but you know before that final certificate of occupancy and all the final details are done when you close it's a phased process and that's what we are going through right now.
"All of that is the natural course of the closing of a project. For us, as I said before, we are investing now over $200m. Through the pre-opening initiatives we're taking on the ownership role. We are working hand in hand with EXIM Bank and certainly with the government to make sure that we open in a phased manner."
He continued: "That's important to us because it's not political because if we wait until the very end when all the final details are done. Then we are that far behind in getting ourselves launched and ready for the next season, which is 2017/2018.
"So for us it's really very important that we get in now and get open in a very thoughtful way which we are doing and that is to open on April 21, have our show links up and running and certainly get the casino opened. The golf course will be ready before that and we'll have rooms ready in the Grand Hyatt. We'll have the pools ready, restaurants ready, shops will be opened and then we are going to thoughtfully progress."
He went on to reject that Baha Mar's soft opening date was aligned with the upcoming general election, which is expected to be shortly after the resort's April opening. He said this was agreed upon by all major parties involved.
Mr Davis said in the lead up the Baha Mar's opening, executives remain excited as there has been a tremendous amount of outpouring of interest to come back and be a part of Baha Mar not only from Bahamians interested in the resort, but from visitors who want to experience the resort's amenities.
Prime Minister Perry Christie announced Baha Mar's sale to Hong Kong-based conglomerate Chow Tai Fook Enterprises Ltd (CTFE) last December.