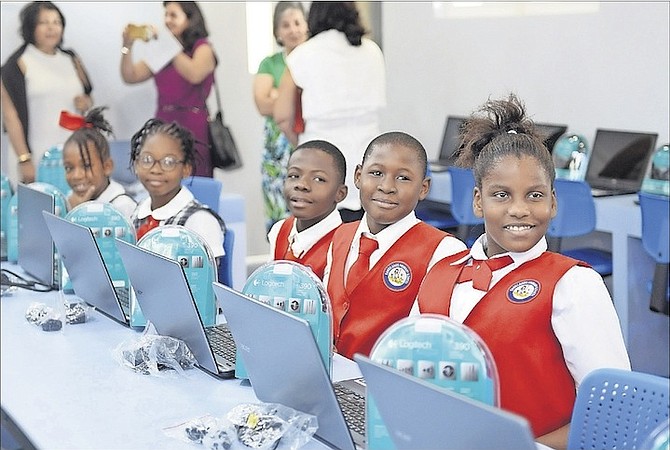 By RICARDO WELLS
Tribune Staff Reporter
rwells@tribunemedia.net
NEARLY five months after a burglary left the Sandilands Primary School without computers, Mission: Educate Bahamas in conjunction with Aetos Holdings Limited, yesterday commissioned a brand new, state-of-the-art library and technology centre at the school's Fox Hill campus.
The new facility - which is outfitted with 40 laptop computers, individual computer stations, a reading centre and over 4,300 catalogued library books - was constructed and furnished in just under 50 days.
Mission: Educate Bahamas, pioneered by Alexis Tsavoussis, said the donation is in line with its mission to help every child in the country excel in academics and reach their true potential.
The initiative was founded in 2011, and since its inception, has reached more than 1,200 students in four government schools.
Education Minister Jerome Fitzgerald said the construction of the facility represented the true nature of public/private partnerships, as he applauded both Aetos Holdings and Mission: Educate Bahamas for their commitment to not only Sandilands Primary, but also the Department of Education.
The group crafted the "Tune into Reading" literacy programme, which has been used in several education environments in the Bahamas and South Florida since 2011.
The programme - an award winning, internet-based teaching resource that uses musical exercises to improve literacy skills - was equipped in each computer terminal commissioned Monday.
In addition to Mr Fitzgerald, thlose attending Monday's ceremony included Governor General Dame Marguerite Pindling, Fox Hill MP and Minister of Foreign Affairs and Immigration Fred Mitchell, Director of Education Lionel Sands and President of Aetos Holding Limited Chris Tsavoussis.
Mr Mitchell cheered the donation as a positive step for the Fox Hill community, one of many planned for the area over the next few months.
According to Mr Mitchell, the area's long-touted community centre is nearing completion.
Aetos is the parent company for Wendy's Bahamas, Marcos Pizza and Popeye's Bahamas.
Sandilands Primary was robbed last October, during the passage of Hurricane Matthew.