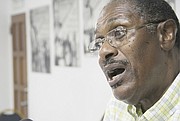 By KHRISNA VIRGIL
Deputy Chief Reporter
kvigil@tribunemedia.net
AFTER the Supreme Court's ruling to reject the request for leave to begin judicial review proceedings of the Constituencies Commission's report, Progressive Liberal Party (PLP) Chairman Bradley Roberts defended the group's work, saying it was "disappointing" that there were attempts to hinder this constitutional requirement.
Mr Roberts called the efforts of some Official Opposition members of Parliament to have the parliamentary order on constituency boundaries reviewed a "frivolous and vexatious" attempt at testing the country's supreme law.
Shortly after Justice Ian Winder delivered his ruling yesterday, Mr Roberts issued a statement saying the governing PLP will continue to be respectful of the rules that govern the country.
He said: "The Bahamas Supreme Court ruled today that the 2017 (Constituencies Commission) report which passed in the lower house on Wednesday, February 15, 2017 meets all legal requirements, and in doing so, denied the petitioners' challenge.
"The work of the boundaries commission, a joint and bipartisan political effort, is intense and at times contentious in nature. In recent times, governments led by both major political organisations have been more transparent and responsible in this exercise, which is essential to the electoral process."
He continued: "Despite the inevitable disputes, the effort features close consultation between parliamentarians of opposing parties, taking into careful consideration the constitutional guidelines of voter registration in relation to population size and the fair distribution of voters.
"The Progressive Liberal Party was disappointed that mischief makers attempted to extend their political activism beyond the legal remit and objectives of the (Constituencies) Commission in an attempt to frustrate this necessary constitutional requirement."
"Nonetheless, the Progressive Liberal Party has always been and will continue to be respectful of the rule of law as it is the great and ultimate equaliser regardless of however frivolous and vexatious the intent in testing our supreme law.
"It is our hope that this will be the posture of all concerned," Mr Roberts said.
The plaintiffs, Montagu MP Richard Lightbourn and Fort Charlotte MP Dr Andre Rollins, were represented by attorney Michael Scott. They argued in documents filed last week that the draft order tabled in the House of Assembly by Prime Minister Perry Christie last week should be declared void and that the 2012 order on constituency boundaries should be made extant, meaning applicable to the 2017 general election.