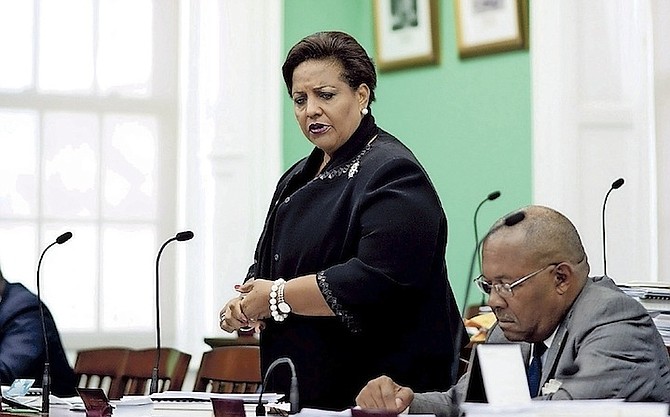 By AVA TURNQUEST
Tribune Chief Reporter
aturnquest@tribunemedia.net
OFFICIAL Opposition Leader Loretta Butler-Turner yesterday forecast that it was "very likely" the Progressive Liberal Party will be returned as the government unless splintered opposition forces can put the future of the country before their own egos.
Mrs Butler-Turner told reporters outside Parliament yesterday that the path to achieving a unified opposition is "very straightforward" but was blocked largely by the leadership desires of all persons involved.
She maintained that, despite the protestations of other groupings, the only team that she has not had formal talks with was the Free National Movement.
Mrs Butler-Turner lamented that there was still a "void of leadership" in the country, and suggested that while she had previously felt strongly about the ability of opposition forces to coalesce around the central theme of ousting the PLP, her team was having great difficulty achieving that goal.
"I think it's important that the Bahamians have two clear choices and that is a unified opposition and the government," she said, "and so it's important that we try to work toward unifying at least the opposition forces. Maybe not under the same umbrella because everyone wants to be leader but certainly to be able to put our differences aside to turn the country around."
She added: "I said to people who are advising the FNM, I said it's very simple: we've just got to be able to determine if we unify ourselves, like I said, it doesn't have to be under one brand. We just have to come together and ensure that we are not splitting the vote in so many different directions, that's the important thing.
"The conceptualisation is very straightforward, it's the egos of individuals. Until we actually determine that the country is more important than each of us as individuals, we will probably end up with what we have, and history certainly dictates that if we go into an election splintered in so many directions that's very likely, that's the reality."
Mrs Butler-Turner was responding to questions from the media on the path forward for herself and the other six MPs who are currently facing disciplinary action from the FNM over their move in December to remove Dr Minnis as leader of the Official Opposition in Parliament.
"I believe that one of the things you see happening in the country today is that there exists a void of leadership, and I felt strongly that opposition forces would have been able to come together and to fight against the common goal and that is to rid this country of the PLP," she said. "Unfortunately it appears we are having great difficulty in achieving that and so we will continue as best we could."
When asked whether unification efforts indicated her willingness to work alongside the FNM, she said: "I think the DNA, the FNM, the United People's Movement, the Gatekeepers, whatever opposition forces are out there, we are not each other's enemies. I think objectively what we need to demonstrate is that we need to displace this incompetent, this inept, PLP government, and so if calmer heads would prevail I'm sure that those dialogues can happen. But, of course, it takes calm heads for that to happen."
Mrs Butler-Turner added: "I think that's the most important thing, you know, we've got to realise that the country is not in a good place. The country under the PLP has not been accountable, they have not been effective, they have not been transparent, bills are not being paid in a timely fashion. We've paid the most taxes that this country has ever undertaken and yet the regular running of business is not happening, so if we are going to represent the interests of the people who vote for us, those of us who actually represent opposition forces, we've got to do better, we've got to come together."
Last week, Fort Charlotte MP Dr Andre Rollins - one of the "rebel seven" - said he was prepared to "get back in the FNM" if that's what it took to ensure the PLP did not win the next election.
While making his contribution in the House of Assembly last week, Dr Rollins said despite all that has happened, he considers himself to be a member of the FNM and his main objective is to make sure the party, led by Dr Minnis, becomes the next government of the Bahamas.
When asked whether she shared Dr Rollins' view, Mrs Butler-Turner said: "I wasn't here when he said that, but he did explain what he was attempting to do. I do believe that every right thinking Bahamian who wants what's best for the country realises that the PLP is the common denominator and we've got to be able to try and come together for the greater good of the Bahamian people."
Pressed on whether this would mean she was willing to work under Dr Minnis, she said: "I just said to you that I think everyone wants to be leader, I don't know about the under. I think it's not so much an under, we've got to work together.
"Let's stop placing one person on top of the other and let us see how we can best work together. That is important whether it's Dr Hubert Minnis, whether it's Branville McCartney, whether it's Greg Moss (UPM), whether it's Loretta Butler-Turner; whichever the grouping we have got to come together."
After she was appointed leader of the Official Opposition, Mrs Butler-Turner said she was forming a "bold and powerful" coalition with Mr McCartney and the Democratic National Alliance. Mr McCartney later said he did not know what the Long Island MP was referring to, saying the two had only discussed her appointing him to the Senate.
Mrs Butler-Turner later accused the DNA leader of throwing her "under the bus".