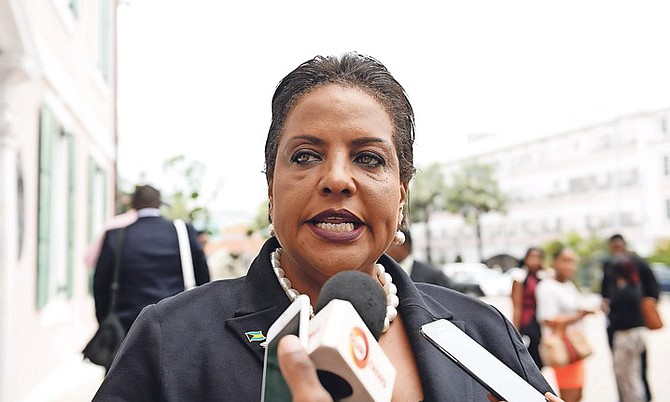 By SANCHESKA DORSETT
Tribune Staff Reporter
sdorsett@tribunemedia.net
OFFICIAL Opposition Leader Loretta Butler-Turner is concerned that the Parliamentary Registration Department and Parliamentary Commissioner Sherlyn Hall are not prepared to handle "something as important" as a general election.
"My concern obviously goes to the fact that this is late in the game and we have had issues with the (June 2016) referendum and the returns with regards to those," Mrs Butler-Turner told reporters this week.
"I'm just hoping that the Parliamentary Registration Department is fully prepared to do all the corrective measures that are needed to ensure we have free, fair elections and that no Bahamian is disenfranchised. I can tell you from the past two exercises that we've had to go on under this particular commissioner, I feel that we have had a lot of questions and I would be very concerned that those questions are properly addressed as we move forward into something as important as the general election."
Last year, several opposition members called for the resignation of Mr Hall after he was accused of doing a poor job in his department's handling of the constitutional referendum.
In the hours following the June 2016 vote, the Parliamentary Registration Department released results for only six of 38 constituencies. The department pointed to electrical failures, technical issues and procedural breaches for its inability to report totals for polling stations throughout the country.
In a break from custom, Mr Hall decided not to release polling division results as they came in, instead opting to wait for all the votes from an entire constituency before issuing them.
National Security Minister Dr Bernard Nottage, who has responsibility for elections, told the media that he was not certain what went wrong.
Meanwhile, Mrs Butler-Turner also said she fully supports Montagu MP Richard Lightbourn and Fort Charlotte MP Dr Andre Rollins' legal action against the government over the boundaries report and vowed to do whatever it takes to ensure a "free and fair" general election.
Mrs Butler-Turner expressed disappointment that parliamentarians continued to debate the report and approve the boundary changes in the House of Assembly last week before the matter had been heard in court. She said the move shows that the government is prepared to do "whatever it wants, whenever its wants".
Supreme Court Justice Ian Winder on Tuesday refused an application by Official Opposition members seeking to start judicial review proceedings over the Constituencies Commission's report on constituency boundaries, ruling that the applicants had poor prospects for success and failed to provide sufficient evidence to show they had an arguable case.
However, Justice Winder said it was "regrettable and unfortunate" that the Constituencies Commission failed to produce its report in the time laid out by the Constitution.
Michael Scott, the attorney representing the MPs, said he will appeal Justice Winder's ruling within a week, adding that they will take the matter to the Privy Council in London if necessary.
"Of course I support my team," Mrs Butler-Turner said.
"I believe that they certainly represented themselves with concerns to the late boundary commission report and I believe that there are precedents that have been set in other jurisdictions that observe the same protocols as ours and I think they have every right to continue the appeals process. "Obviously the government was not minded last week, when I was out of town, to even give the courtesy of the fact that this action had been filed and they continued with the debate and went through with it totally and passed it. This shows me that clearly the government is prepared to do whatever it wants to do but the (Official) Opposition will also try and ensure that it upholds its rights to free and fair elections."
More like this story