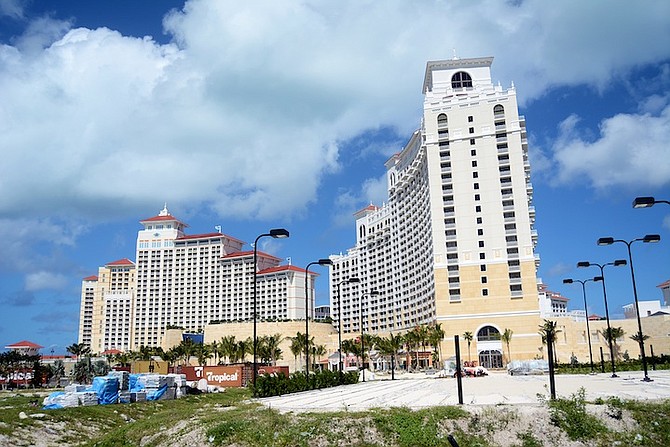 By MALCOLM J STRACHAN
Graeme Davis, who will oversee the operations of Baha Mar, if and when his employer, the Chinese conglomerate, Chow Tai Fook, closes on its ownership on the property, has been in many Bahamian media outlets recently, promoting his vision of what he hopes Baha Mar will look like on April 21 and afterwards.
His media effort only further highlights the refusal of the real players who control Baha Mar's fate - the Export-Import Bank of China (EXIM) that owns Baha Mar, China Construction America (CCA), the controversial Chinese construction building Baha Mar and The Pointe, and the government of the Bahamas - to speak to Bahamians forthrightly and most often, not at all about Baha Mar.
Even so, Mr Davis' comments have caused quite a stir with many - and not in a positive way.
In the recent radio interview of Mr Davis by Juan McCartney on 'The Revolution' last week, Mr McCartney's questioning and Mr Davis' "dance around" responses hit on some points that only unfortunately stimulate further concern for Bahamians. Case in point:
1 Mr Davis' vagary about the number of rooms that will be open in April is highly troubling. In response to a few questions from Mr McCartney about whether 200 or 800 rooms will be open in April, Davis essentially shrugged his shoulders and said "I don't know". What a strange answer from someone leading the project! If he doesn't know how many rooms will be open, does anyone know? And when exactly will he know? After all, April is around the corner.
The answer lies, of course, with CCA. As anyone involved in massive construction projects like Baha Mar knows, these projects are guided by the schedules provided by the general contractors. Compiling and maintaining these schedules is a massive undertaking, everything down to the smallest detail is contemplated and recorded in these schedules.
So, if you have accurate schedules, then you should know exactly how many rooms you will have ready to open and when. But, it seems, Mr Davis doesn't know this. Could it be because CCA is unable to provide accurate schedules and Mr Davis and his team do not trust CCA's schedules? After all, public documents have shown this to be CCA's modus operandi with respect to Baha Mar in the past.
Looking at CCA's recent history, this is likely the case. As everyone knows, CCA's shoddy scheduling and broken promises, including to Prime Minister Christie, have played a major role in where the project stands today. They were unable to provide proper schedules during the original construction of the project, causing the resort to prepare to open too early and eventually causing cash flow issues. What makes anyone think CCA has turned over a new leaf and can provide proper schedules, reliability and quality work this time around?
2 Mr Davis was asked point blank by Mr McCartney about his relationship with CCA, which he described as "not exactly kumbaya". Besides the interesting undertones of using the word "kumbaya", is that how you want to describe your relationship with a major party chosen to be critical to the success of this project? Especially when CCA appears to have been forced upon Davis and Chow Tai Fook by the EXIM bank?
What other experiences has Mr Davis had with CCA? Based on the interview, there seemed to have been some with Chow Tai and Davis' comments on these are less than a full throated endorsement of CCA. Furthermore, will CCA be distracted by its own development at The Pointe? It is obvious that the Chinese general contractor cares about The Pointe more than Baha Mar, as it has already removed equipment from Baha Mar's site to complete The Pointe and, at the groundbreaking, said that it would ensure The Pointe would be completed because "it has equity in the project". CCA obviously does not have the same stake in Baha Mar.
3 Mr Davis' comments about the debts owed by Baha Mar to government-owned utilities and other Bahamian vendors are particularly troubling. Mr Davis admitted that, while Baha Mar owed money to a number of government corporations, including BEC and the National Insurance Board among others, the only amount paid down is with BEC. How can the government, mired in its sovereign debt disaster, tout Chow Tai Fook as a saviour of Baha Mar and compliment EXIM's partnership with the Bahamas, when in reality Baha Mar and its present owner still owes the Bahamian people millions of dollars?
Is this fair? Is this one of the many concessions Prime Minister Christie, in his secret deal with his friends in China, had to give away in order to get Baha Mar partially open before the elections? If Chow Tai Fook, since Mr Davis asserts the latter will own Baha Mar, cares so much about the Bahamas, why doesn't it commit to just pay these outstanding debts once it assumes ownership?
These points alone raise many critical questions to which we deserve to know the answers. Mr Davis, if you and your employer truly expect to own Baha Mar, then we truly expect you to be transparent and open with Bahamians. If you are to have success here, begin by being straightforward with us about what is going on at Baha Mar. Spin, and generalities are not enough. We already have enough of that from this present government.
• Comments and responses to insight@tribunemedia.net