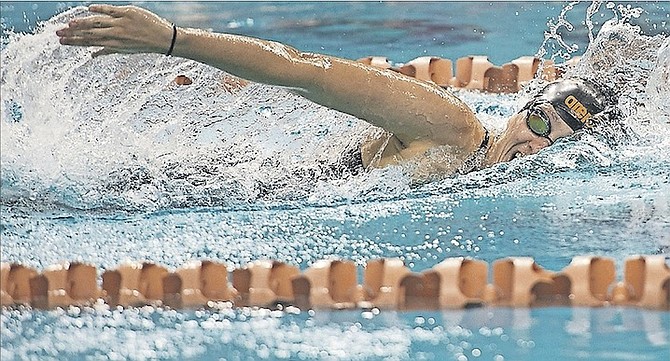 BAHAMIAN Olympian Joanna Evans had another spectacular showing over the weekend for the No. 2 Texas Longhorns as they completed an unblemished run through the Big 12 Championships, winning their fifth consecutive league title at UT's Lee and Joe Jamail Texas Swimming Center on Saturday.
Sophomore Evans claimed her second consecutive league title on Saturday in the 1,650 freestyle at 16:05.11, well under the 16:13.39 that won her the 2016 Big 12 title. The performance came after Evans toppled a 25-year-old school mark in the 500-yard freestyle on Friday.
Evans kicked off the night by breaking the long-standing school mark in the 500-yard free, where she was victorious in 4:36.97. The swim broke the previous school mark of 4:37.73 set by Olympian Erika Hansen at the 1992 NCAA Championships. It also took down the Big 12 mark of 4:37.81 set by Texas A&M's Cammile Adams at the 2011 Big 12 Championships.
Last year, Evans represented the Bahamas, placing 13th in the 400m freestyle (4:07.60), 23rd in the 800m freestyle and 37th in the 200m freestyle (2:01.27).
Over the weekend, the Grand Bahamian native helped Texas win its 15th Big 12 title with 991 points while Kansas took second with 683.5 points. Iowa State placed third with 591.5 points and West Virginia placed fourth with 581.5 points. TCU took fifth at 434.5.