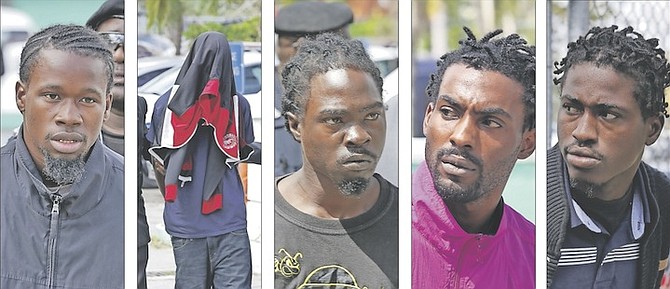 By LAMECH JOHNSON
Tribune Staff Reporter
ljohnson@tribuemedia.net
FOUR men and a juvenile appeared in Magistrate's Court yesterday to face separate murder and attempted murder charges concerning three recent shooting incidents in the capital.
In the first of three arraignments, Stanford Pinder, 24, and a 16-year-old boy stood before Chief Magistrate Joyann Ferguson-Pratt accused of intentionally causing the death of Leonard Sweeting on Thursday, February 23, and attempting to cause the deaths of Robert Munroe, Phillip Rolle and one-year-old Patrayer Finlayson.
According to initial police reports, gunmen with handguns approached and fired several shots at the group standing in front of a home on Scott Street before fleeing the area on foot. The victims were rushed by private vehicle to hospital, where Sweeting died of his injuries. The young child and the two men survived the incident.
Pinder and his juvenile accused, who cannot be named because of his age, were told yesterday that they would not be required to enter a plea to the charges until they are formally arraigned before a judge of the Supreme Court when the case is transferred there through the presentation of a voluntary bill of indictment scheduled for April 25.
Both alleged that they were brutalised while in police custody and the minor, according to his mother, has a pre-existing heart condition that requires treatment and monitoring.
The chief magistrate made a note of the concerns on their Department of Correctional Services remand warrant.
In the next arraignment, Nicholas Lightbourne, 23, was also arraigned on charges of murder and attempted murder concerning a shooting on Sunday, February 19.
It is alleged that he intentionally caused the death of Clearance Gibson and tried to kill Shonae Sweeting.
According to earlier police reports, shortly after 11pm, the victims had just left a party and were walking on Knowles Drive off Tonique Williams-Darling Highway when five masked men with handguns in a small white vehicle pulled up and shot them before speeding off.
Gibson was pronounced dead at the scene, while Sweeting was taken to hospital to receive medical care.
This case is scheduled to be fast-tracked to the Supreme Court on April 27.
In the other arraignment, Spencer Lewis, 25, and Kingsley Choute, 22, stood accused of intentionally causing the death of Kirt Ariste on Friday, February 3, and attempting to cause the death of Dino Cox.
Shortly before 7.30pm, Ariste and Cox were sitting in a vehicle on Durham Street off Mount Royal Avenue, when two armed gunmen approached and shot them before fleeing on foot. They were taken to hospital where Ariste died of his injuries.
A Voluntary Bill of Indictment presentation for this case has been scheduled for April 26.