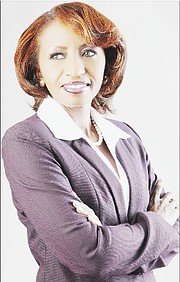 By MICHELLE MILLER
Having a goal to grow is the key to actually growing. We often sit on the sidelines watching businesses grow, thinking that it's some act of waving the magic wand. When in truth it takes work.
What we don't see is that behind the scenes there are innovative minds at work. They are looking at their systems to ensure they are on the cutting edge. They know what's new and understand customers' needs.

These savvy folks subscribe to the notion of being proactively informed and skillfully educated about their market place.
These kinds of business leaders are driven by innovative growth. They work with a vision that projects their business ideas forward. And by vision I'm referring to a clearly defined picture or focused document that details what your business idea will look like as it develops and positions itself in the marketplace.
Without mediums for you to actively connect to, engage and grow, you relegate your business idea to the graveyard of what could have been.

To give your idea even just a shot at success, you have to give it life. Giving it life begins with putting it on paper.

This is not about writing some voluminous business plan alone. Instead, it challenges you to first write down a vision for your business idea. Without a vision your business can never really come to life.


Growing up in a house with many siblings, my mother had to find ways to keep us quiet, especially on Sundays. Her strategy was simple. She bought those 500-piece puzzles for us to put together. One thing that we know about puzzles is that there's a picture of what it ought to look like on the box.
This did the trick. Right away we each picked a portion of the picture that we would be responsible for putting together. We had the vision, the plan came next.

It was for each of us to look only for the pieces that we were working on. The goal that followed was to work independently on our parts. The final strategy was to fix our individual parts onto a cardboard so that when we were done we could easily bring these parts together without them falling apart.

Yes, it took a lot of quiet, very long hours to put those 500 pieces of the puzzle together, but in the end we did it.

Business ideas are like a puzzle. They first need a vision before they need a plan if they are to successfully come together.

Here's my formula for success – whether it's in your business, personal or professional life – you must have a vision. Every vision needs a plan, every plan needs a goal, and every goal needs a strategy.
While the norm when it comes to business is the development of some kind of a business plan, remember, a plan without a vision goes nowhere.


Think about it in terms of architectural blueprints. They are a vision of what the building ought to look like once the plan is adequately executed. More often than not, sustainable business success is the result of innovative growth.

What about you? What goals do you have for the development or expansion of your business idea? Those who lead the marketplace are the innovators, the decision-makers. They challenge assumptions, think critically and are proactively educated.
Leader to leader, expand your possibilities this year by setting a goal to grow. If you don't have a business idea, now is the time to get busy thinking about one. The old model of getting some secure job and working until retirement is outdated thinking.

Today's the world is flat and borders are no longer a barrier to doing business. You can readily take your business ideas global. However, you cannot go global if you are not growing, and you cannot grow without a goal to grow. Everything starts with your vision, your outlook for your business idea.

Consider joining me at My Life Outlook 2017. You can gain insight and relevant information about how you can set a vision for your business idea to grow. When you choose to be proactively informed, you build the confidence to position yourself as a market leader, equipped to grow your business and expand your market share. And yes, you definitely can do it.
What do you think?

Please send your comments to coaching242@yahoo.comor call 429-6770.
• Michelle M Miller is a certified life coach, communication and leadership expert. Visit www.talktomichellemiller.com or call 1-888-620-7894; mail can be sent to PO Box CB-13060.