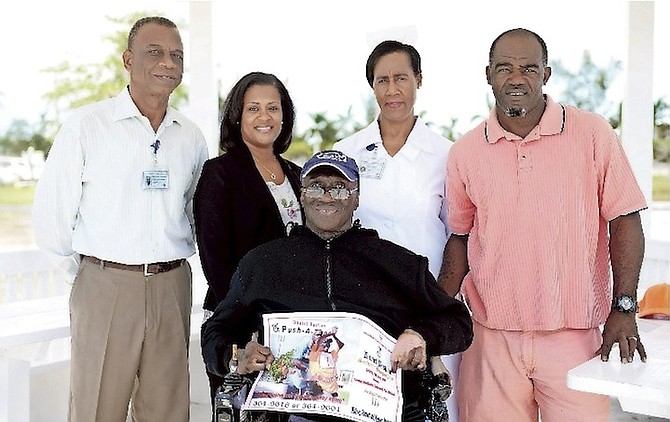 By JEFFARAH GIBSON
Tribune Features Writer
jgibson@tribunemedia.net 
DANIEL Bastian, a 66-year-old quadriplegic, is determined to reclaim the top spot in the Sandilands Rehabilitation Centre's upcoming sixth annual Geriatric Push-a-thon in April. 
"Danny", as he is affectionately called, is a resident at the SRC and has become an iconic figure in the yearly event, having participated in five races, placing first two times and becoming the winningest competitor. 
However, last year Danny and his pusher Shervin Brown, a porter at the SRC Pharmacy, had a disappointing finish. Nevertheless, the duo believes they will finish first this time around.
"We lost big last year. We didn't even place, so we have to catch up," Danny told Tribune Health.
Danny is the patron for this year's Push-a-thon, which is being held under the theme "Stay Active and Inspire Healthy Aging". It takes place on Saturday, April 29, starting at 7am. 
With still eight weeks to go until the Push-a-thon, Danny said he already envisions himself winning. Shervin Brown will once again take his place as Danny's pusher to help propel him to the finish line.
"We will be the first ones out the gate," said Shervin.
Danny added: "I have to get my mind together. We have a lot of strong fellas, but we will give them a run for their money."
Danny has been a resident of the SRC since 1980. He was admitted to the centre two years after a car accident left him paralysed from under his arms down to his extremities. He had no other trauma or injuries to his body, but his spinal cord was severed. He was 28-years-old at the time. 
As a permanent SRC resident, over the years Danny has received physical and therapeutic care. 
Danny's relationship with Shervin spans 15 years, which is the reason he has so much trust in him as his pusher. 
"I have been working at Sandilands for about 15 years. And in the 15 years I have interacted with almost every patient. So when Mr Bastian asked me, I answered to the call. Every time I come out. I push him," he said. "I am his running man, so if we don't come first he can blame me. But we looking to win this year."
The SRC Push-a-thon was introduced in 2012 by Dr Indira Grimes, a consultant at the Geriatric Hospital, who believes the initiative demonstrates the hospital's serious approach to providing holistic care for its elderly residents as well as the country's senior citizens.
"If people are able to push themselves during the event they can, but we always advise that they have someone push them. Part of the reason why we host a Push-a-thon is not only for the clients here at Sandilands, but also for the community at large to bring in people who can push and who can walk with the clients and push them along the route. Many of them who are wheelchair-bound don't have the strength to endure a route pushing themselves," she said. 
The route begins at the SRC, goes south on Fox Hill Road, then east on to Yamacraw and north through Elizabeth Estates, back west on Prince Charles and south on Fox Hill Road. 
"We have had more interest as the years pass, certainly from neighbouring community and churches. We also have groups that always participate," said Dr Grimes.
The purpose of the event is to bring awareness about healthy aging and the importance of physical activity amongst senior citizens. The general public is invited to get active and participate in the event. 
"The elderly make up probably about 25 per cent of our numbers. Most of them come from the geriatric population at our Geriatric Hospital and through our outpatient clinics. We get some of them registered. A few of them who participate live in the area or attend churches nearby. 
"It fluctuates but we certainly would like to see that number grow. The whole point is to put on a safe event to encourage more older persons to be active and get involved in doing exercise and physical activity," said Dr Grimes.
Sister Denise Kemp Smith, senior nursing officer in-charge of the Geriatrics Ward, also encourages people to live healthy now because it will impact their lives when they get older. 
"We encourage people to exercise daily because the way you live when you are young affects you when you get older. So if your start a healthy lifestyle now, eating regularly, eating meals properly, exercising at least three times a week, that will have a positive impact on your body when you get older," she said. 
To register for the event e-mail daustin@src.phabahamas.org, indiragrimes@yahoo.com or shiggins@src.phabahamas.org.