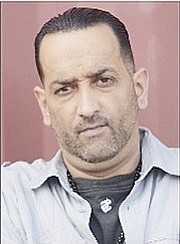 By Inigo 'Naughty' Zenicazelaya
MARCH is upon us and the NFL Draft in April will soon be here.
But before we get to the NFL Draft and all its related coverage of the top outcoming collegiate football talent in the nation, there is the NFL Combine, where 'legends' are born, and 'no names' become 'big names' overnight.
Size and speed are two of the hottest commodities at the combine.
A player can have a meteoric rise due to an impressive overall combine, or in some cases just by running the infamous 40-yard dash impressively.
An extremely fast time by a player, regardless of position, can turn the draft upside down, and a player's earning potential as well.

• Here are 5 Legendary NFL Combine performances, and where these 'Legends' are now.
Darrius Heyward-Bey,
WR, 2009
As a receiver from Maryland with just 13 career touchdowns, Heyward-Bey was a marginal prospect in the 2009 draft. But a remarkable combine day that saw him run the 40-yard dash in 4.3 seconds, jump 38.5 inches in the vertical leap and excel in on-field drills launched Heyward-Bey into the first round when the Raiders picked him seventh overall.
Where are they now?
In 7 seasons with the Raiders, Colts and most recently the Steelers, Heyward-Bey has collected 12 career touchdowns. His best season came in 2011 with 975 receiving yards including four touchdowns. He caught three passes for 33 yards in 16 games with Pittsburgh this season and is set to become a free agent.·
Chris Johnson, RB,
2008
Coming out of Eastern Carolina University in 2008, Johnson was considered to be a very good running back prospect. But his showing at the combine introduced him to the nation. Johnson is still the record holder for the fastest electronically-timed 40-yard dash mark with 4.24 seconds.
To be sure, Johnson would've been drafted within the first three rounds. But his record-setting combine propelled him to the 24th selection in '08 by the Tennessee Titans.
Where are they now?
Johnson did claim some history in his time with the Titans, becoming just one of the seven players in NFL history to have cracked 2,000 rushing yards in a single season when he logged 2,006 in 2009. Johnson played 9 seasons with the Titans, Jets and Cardinals, who just released him, making him a free agent.
Vernon Davis, TE,
2006
Coming out of Maryland, he was always considered an exceptional athlete. But by the time Vernon Davis left Indianapolis, he was a guaranteed top 10 pick. He composed one of the best all-around combine performances in the history of the event, running a 4.38 second 40-yard dash, bench pressing 225 pounds 33 times and jumping an astonishing 42 inches in the vertical leap.
That's part of the reason why the 49ers selected Davis with the sixth-overall pick in the 2006 NFL draft.
Where are they now?
In 11 seasons with the 49ers, Broncos and Redskins Davis has experienced highs and lows. He's under contract in Washington, where he's experienced a career renaissance, for one more season.
Matt Jones, WR, 2005
The 'Great White Hype'
Though he played quarterback at Arkansas, Matt Jones knew he would have to change his position to get drafted.
And auditioning as a wide receiver, Jones lit up the combine. The 6-foot-6, 237-pound Jones ran the 40-yard dash in 4.37 seconds, jumped 39.5 inches in the vertical leap and lunged 10-feet-10-inches in the broad jump. Despite the lack of experience at the position, the Jaguars plucked Jones in the first round with the 21st overall selection.
Where are they now?
In only 4 seasons with the Jaguars, Jones played in 54 games, but started only 15. He caught 166 passes for 2,153 yards and 15 touchdowns.
The Jaguars released Jones in 2009 after multiple substance abuse issues and a questionable work ethic. Jones received interest from other teams, but never played another game in the NFL.
And the 'Greatest NFL Combine Legend of All Time -
Deion Sanders, CB,
1989
This was perhaps the greatest show of swagger at the combine. The story goes that Sanders arrived late and had to be talked into running the 40-yard dash. It was the only drill he participated in. He ran a hand-timed 4.27 and didn't stop.
He reportedly kept running through the tunnel and into the locker room, according to Brandt. Sanders didn't need to do anything else. The Falcons selected him with the fifth-overall pick in the '89 draft.
Where are they now?
Currently working as an analyst for NFL Network, Sanders is a member of the Pro Football Hall of Fame for a remarkable 14-year career.
Though he primarily played defense, Sanders scored 22 touchdowns with five teams, most notably the Falcons, Cowboys and the 49ers. Sanders collected 53 career interceptions.
– Until next week I will leave you with this, especially for you fans who's team, wherever they may be, and on whatever level they compete, is having a tough run lately, some inspiration from legendary NFL Coach and broadcaster John Madden -

"The road to Easy Street goes through the sewer."
Keep your heads up, and keep playing hard, it will get better!
• Naughty presents 'Mischief and Mayhem in da AM' from 6am to 10am, Monday to Friday and 'The Press Box' sports talk show on Sunday from 10am to 1pm, on KISS FM 96.1. Comments and questions to naughty@tribunemedia.net