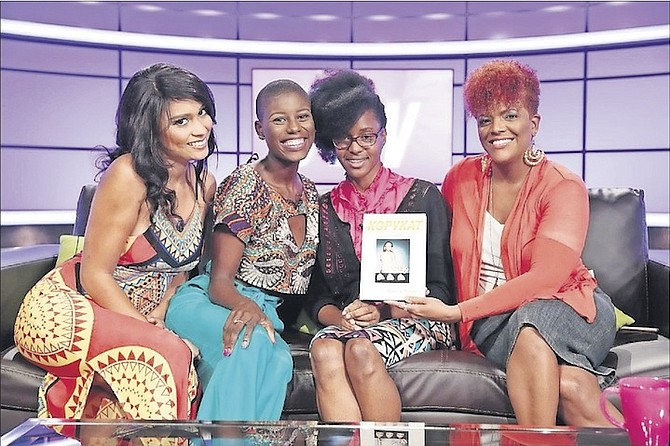 By ALESHA CADET
Tribune Features Reporter
acadet@tribunemedia.net 
MARCH is recognised as Traumatic Brain Injury Awareness Month. All over the world, people take this time to participate in various campaigns and initiatives to shine a light on a condition that affects millions.
Here in the Bahamas, traumatic brain injury (TBI) survivor Paquell Butterfield will be doing her part.
After surviving a near fatal car crash in 2010, Paquell became intent on rediscovering her true self and sharing this message with others. 
"I am a part of an online international TBI support group where we encourage, empower and assist each other. Partnerships are being formed and activities arranged to engage the Bahamian TBI community. Efforts are underway with Wolf's Kayaking Club Bahamas to involve Kayaking Therapy, which has been proven to have a positive impact on TBI recovery," Paquell told Tribune Health.
She added that next month the local TBI community can look forward to a support group for survivors, caregivers and family. Paquell is especially focused on the support system aspect, because TBI is an injury where one can become very lonely for various reasons. 
"Coincidentally, the theme for the 2015-2017 awareness campaign is 'Not Alone'. The community at large can look forward to learning opportunities about brain injury and mental health," said Paquell.
Following her brush with death, learning about the brain became a passion for Paquell. She said understanding her condition felt like something she was meant to do. Even before her accident, members of her family experienced various types of TBIs. Her father died after sustaining a skull fracture, and a relative suffered a localised injury which led to bruising and bleeding of a particular part of brain.
"My studies led me to understand which part of the brain was responsible for particular functions. This helps me to make improvements to my life as well as help other survivors and caregivers understand the injury and ways to make improvements to recovery," said Paquell.
"A brain injury is a chemical change in the brain caused by external force or hit. With that said, think about a concussion. It may only be a simple head bump, but because it causes some chemical changes it is an injury to the brain and should not be taken lightly. Sadly, the reality is because many take it lightly it is often overlooked, misdiagnosed and misunderstood."
Speaking of some of the ways a person's life can change following a TBI, Paquell said areas such as behaviour, speech, personality, interests and mobility can be significantly affected.
"I recall several things taking place when I regained consciousness, one of them being like a baby again," she said.
Other changes include physical trauma, cognitive assessment, emotional trauma, loss of independence and social life. 
"I started off in a wheelchair, graduated to a walker, followed by a cane. And after a short while I was walking without assistance. Today, I am able to do some jogging. Also, to test my cognitive skill, I had to spend time matching colours and patterns. My speech was very slurred and not clear. Life goes on for those around you, and although friends are moving on with their life, I had to relearn everything I once knew. These are only some of the challenges and losses I've had to face and overcome since the brain injury," she said.
"I still struggle with some of the losses, but because of my perspective I realise I am in a far greater position than ever before."
During her downtime, Paquell got the chance to "detox" from the things that were once a part of her and start anew.
"At times I still mourn for the old me, but I am a far better person because of a life-altering injury, TBI," she said.
She said her faith in God, personal research, activities, therapy sessions and family have contributed to the improvements she has made thus far in her journey. 
For information regarding venues, dates and ways of participating at upcoming TBI events, readers can e-mail info@paquellbutterfield.com. Upcoming events will include a meet and greet, a movie night, educational forum, and a kayaking water adventure tour.