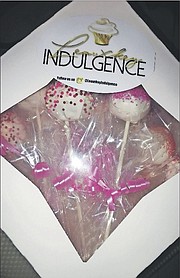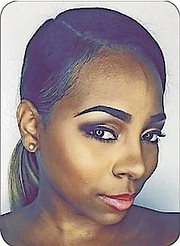 By ALESHA CADET
Tribune Features Reporter
acadet@tribunemedia.net 
What started out as fun hobby has turned into a successful pastry business for Rakia Rolle.
It was last February that Rakia first experimented with making the popular 'cake pops', crumbled cake mixed with frosting and rolled or shaped into bite-size balls.
A year on, and the Grand Bahama native has a home-based company in Nassau called Leauxkey Indulgence that offers everything from cake pops to cupcakes, cheesecakes and French macarons – all made from scratch.
"I posted a photo on Instagram and to my surprise I started to get so many messages of people asking me if I'm taking Valentine's Day orders. At first I said no, I'm just baking for fun and I don't think I'm ready to sell, but then people kept coming to me, so I thought about it and I thought, why not? It was clearly an opportunity to make money, but at the same time it was an opportunity to start a career in something I enjoy and love doing," Rakia told Tribune Woman.
She recalled making her very first batch of cookies during her high school days, joking about how they turned out to be a "horrible fail".
"They were the ugliest and flattest cookies I've ever seen," she said.
Luckily, this experience did not deter from baking, as she went on to continue making various desserts for her family. The one rule she always had was that it had to be made from scratch; she was not interested in making 'box cakes'.
"Growing up I always had a hard time trying to decide what I wanted to do. Even my first year in college I started to study a programme that I liked but I didn't love it. I would always tell people how much I really love baking but I never thought to make a career out of it until now. There are so many things I love about this profession. My most favourite one is seeing a person's face light up when they bite into a pastry I made or when they message me raving about the pastry. Oh my God ,that is so fulfilling. It makes everything so worth it. I promise you that is the best feeling ever, to know you made something from scratch that someone actually really loves. I love that," said Rakia.
When asked about the feedback from customers, she said they all seem to love her cheesecakes.
"I've sold quite a number of cheesecakes and I can say that the feedback is exactly the same. Most times when they ask and I say it's completely from scratch they're surprised by that. They would reply, 'Even the crust?' and I'm like, 'Even the crust'," she said.
Rakia said she is thankful for her support system – her family and her boyfriend – who push her to live her dream, assisting in any way they can and motivating her to stay focused. 
"My Grammy Pam, I remember when I had my first order and I bought the box to pack it in, I had no idea how to assemble it, plus it was late, I was tired from working my 9 to 5 as well as being in the kitchen all night. I struggled to assemble it for a bit and then I said, 'I give up', so she came and said, 'Let's use Google to figure it out'. I thought, 'Duh, Kia, why didn't you think of that but before?' I found a video, but she had already assembled it. Grammy for the win, OK?.I couldn't have done it without her. Then there is my boyfriend, to be honest if it weren't for him trusting me to make cheesecake for the very first time for him to eat I don't think I would be in this position right now. I couldn't have done any of this without the support from any of them," she said.
Rakia's goal is to one day open her very own brick and mortar pastry shop, expanding to offer wedding cakes and more.
"With God's continued mercy, grace and favour, and with the passion I have for baking and my new business, I see it going very far. God is always surprising me; always taking me places I would have never imagined. I have no doubt that there are great things in store for us in the future," said Rakia.
As the year progresses, Rakia's plan is sign up for a culinary course where she can perfect her baking, designing and management skills.
"I want to one day be able to show my talent and creativity around the world," she said.