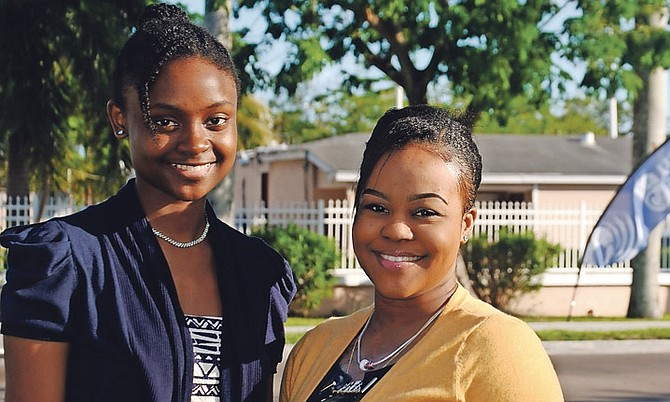 By Felicity Ingraham
Two University of the Bahamas (UB) students are prepared to have their lives transformed during a special trip next year, when they will step into the halls of the United Nations and come face to face with the inner workings of an international committee designed to improve the lives of women worldwide.
Andrea Duncanson, 25 and Kyla Basden, 18, were selected to understudy Marion Bethel-Sears, who was elected as a committee member of the UN Convention on the Elimination of All Forms of Discrimination Against Women (CEDAW).
Chair of UB's School of Social Sciences Christopher Curry made the decision to provide these two students with the opportunity due to their passion for social justice and women's rights which they displayed during his class. Both ladies eagerly responded positively to the opportunity and have since been exposed to the tenets of the CEDAW Convention.
The Ministry of Social Services and Community Development moved immediately into action, providing the two students with opportunities to meet with their experts in order to prepare them to be ambassadors in their own right to their age group for the causes of Bahamian women and girls.  
Ms Duncanson and Ms Basden were briefed by Director of Gender and Family Affairs Gaynel Curry and Mrs Bethel-Sears, among others. They received printed copies of the Convention in order to study it and fully understand what they would be taking part in. Additionally, they received information from the Department of Statistics and the Crisis Centre in order to better understand how the Convention affects the lives of their fellow citizens. The students are also taking a look at some of the laws of the Bahamas in relation to women's issues, particularly domestic violence.  
Mrs Bethel-Sears is heading to Geneva, Switzerland, in February, 2017 for the first three-week session since her election to the committee. The CEDAW Committee, established in 1982, is a body comprised on 23 experts on women's issues from around the world. Their mandate is to watch over the progress for women made in the various countries that are parties to the Convention. The Bahamas signed on in 1993.  
Mrs Bethel-Sears said she is elated to have two UB students coming to observe the proceedings. 
Professor Curry initiated an in-house drive that has led to the acquisition of the funds for the young ladies to make the trip for at least one week. They are now working towards raising enough funds to attend the entire three-week session. Contributions can be made to UB's School of Social Sciences.
Ms Duncanson, a senior pursuing a Bachelor's in Law and Criminal Justice, suggested that police officers be exposed to more social development courses to assist them in dealing with women as they go about the course of their duties. She feels that from the Police Training College to refresher courses for all officers, more education in social development and sensitivity would assist in creating an even more effective arm in the justice system. Ms Duncanson is also studying public administration and sees areas for the laws to be improved to assist female victims of domestic violence even more.  
Ms Basden, currently in the final year of her Associate's degree programme in Law and Criminal Justice, believes that "respect plays a big role" in decreasing the rate of discrimination and violence against women in the Bahamas. In order for women and girls to receive more respect, it means that the men and boys must be just as involved in the process. If girls and boys are taught to have more respect for each other during their formative years, she believes there is a greater likelihood that they would become better citizens, and hence help to create a more peaceful society.
Both young women expressed disappointment, but not surprise in the outcome of the recent gender equality referendum. Social media provided widespread opinion that the referendum may not be entirely successful before it actually happened, they said, but the resounding "no" across the board was nevertheless a letdown. 
They said there were opportunities to provide more equality for Bahamian women, and this exactly what the country signed on to do.
The Bahamas submitted its last report to the UN body in 2012. Its new report, which is now due, will have to include the results of the referendum. 
The students will use the tools they are learning in the social sciences to help them create ways of educating their peers and empowering them for positive change. 
"A lot of Bahamians think that (discrimination and violence against women) is not a big concern here," said Ms Duncanson. She said that oftentimes her peers equate these kinds of issues with war-torn countries and the like. However, she pointed out that there were 444 rape cases from 2006 to 2010, and during that same period, 1,151 juvenile females became the victim of unlawful sexual intercourse and molestation.  
Ms Basden calls her CEDAW opportunity "an amazing bridge" between an international body and the young people of the Bahamas allowing her to relay the "aims and benefits of the Convention to a generation which we have a voice in".
They prepared a presentation which was held at UB's Performing Arts Theatre. Students responded so positively that the ladies are considering forming a club when they return from their travels, knowing now that the more young people are involved from various communities throughout the country, the greater the likelihood that more citizens will become sensitive to pertinent issues that affect women and their well-being.
More like this story