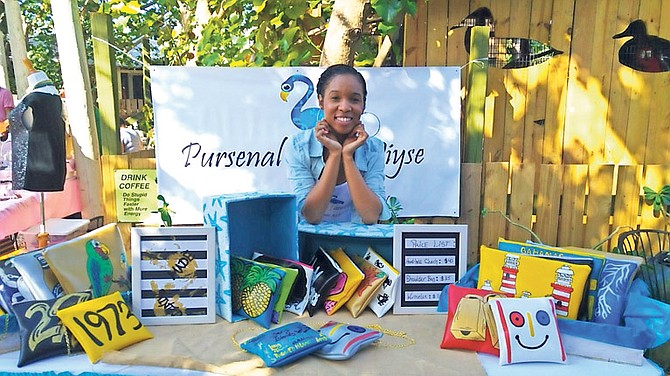 By ALESHA CADET
Tribune Features Reporter
acadet@tribunemedia.net
If you have been on any local social media sites recently, chances are you have seen photos of fun and uniquely Bahamian handbags pop up on your pages; colourful clutches that say things like "Regatta Time", or have a pineapple or flamingo design.
These are all the work of D'Lethea Nairn, who started her home-based design company "Pursenal ParaDiyse" last July.
D'Lethea told Tribune Woman that she has always been a creative individual who enjoys getting her hands dirty with DIY projects, so it was only a matter of time before she started her own business. 
The time to make her vision of entrepreneurship a reality came when she had the misfortune of losing her day job. But that setback did not stop D'Lethea from keeping a positive attitude and focusing on her next move.
"It turned into something so beautiful in the end. I was motivated to turn something that was an idea into a business. I always wanted to learn how to sew and decided to try something that may be easier than clothes. That's when the idea of a purse came to mind. I wanted to make sure I added Bahamian flare to the idea in an innovative way, so that's where the idea of painting the purses came about," she said.
Growing up, D'Lethea's mother sewed clothes for every occasion – a process that was to inspire her daughter years later. D'Lethea said her love for sewing blossomed over the years, and offered her the opportunity to express her creativity and fulfill her passion for art and fashion.
"I feel like it was time for me to come into my own career wise. I wanted to invest in myself and my dreams, so I decided to take the leap of faith and turn a hobby into my profession. I like the fact that I have something to call my own and be able to create a product that expresses the beauty of my country," she said.
D'Lethea's purses boast designs ranging from the national coat of arms to Bahamian policemen in their traditional uniforms, as well as a map of the islands, conch shells and more.
"I have the benefit of expressing my creativity and allowing others to enjoy something that I took the time to 'pursenally' create. My goal is definitely expansion for my brand. I'm all about innovation and keeping my customers intrigued. I see the company in local boutiques or a boutique of my own maybe in the future. I also hope to soon have an international customer base," she said.
Aside from the fact that it is a source of income, D'Lethea said creating Bahamian-made products brings forth opportunities for her to be an ambassador for her country. She believes it allows her to be an influence on other Bahamians to expand their horizons when it comes to creating culturally inspired products.