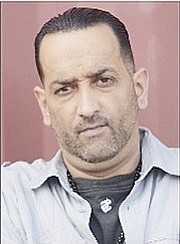 By Inigo 'Naughty' Zenicazelaya
WE ARE back after the holidays, and I hope you all had a safe, enjoyable holiday season.
Now back to the bump and grind - another day, another dollar.
Now with that being said, let's see who'll be bumping and grinding, moving and shaking in the NFL PLAYOFFS.
NAILED IT
When I went out on a limb in early September on the Press Box on KISS96FM with my Super Bowl prediction of the Cowboys vs Patriots in the Super Bowl, it was a shot in the dark, (I wasn't serious about the Patriots) one of those tongue in cheek gems that actually plays out in reality.

Forward the tape to today, I stand solidly by my bold prediction, which looks on course, destination the Super Bowl in Houston.

Both squads are clearly the best in their respective conferences, and barring catastrophic injuries and upsets (which are a real possibility) they should be the participants in this year's Super Bowl.
Fans of both teams and football salivate a Cowboys vs Patriots Super Bowl, old vs new.
The Evil Darth Lord (Brady) battling the two young Jedi Masters from the lone star state (Elliott and Prescott) for the games richest prize.
A classic battle of 'good vs evil' in the making.
THE FAVOURITES

AFC - NEW
ENGLAND PATRIOTS
Despite being 39 years old and quite possibly the best quarterback to ever play the game -- Tom Brady just completed what might be the most impressive season of his 17-year career, with his third-highest mark ever in yards per passing attempt (8.2) and a breathtaking/record-setting 28:2 touchdown-to-interception ratio.
In 2007, when the Patriots were a perfect 16-0, Brady completed nearly 69 per cent of his passes while throwing 50 touchdowns to just eight interceptions -- but he also had Randy Moss and Wes Welker. This year, in his 12 games, Brady posted a better TD-to-INT ratio with a more pedestrian receiving corps (other than Julian Edelman) and without Rob Gronkowski for half the season. Brady is absolutely the main reason the Patriots are the favoUrites to win the AFC, but he isn't the only one.
The Pats entered Week 17 with an NFL-best point differential of 170 -- and that was before putting a serious 21-point beatdown on another playoff team, the Dolphins, at their place. Each of the last three teams to lead the NFL in point differential (2013 Broncos, 2014 Patriots, 2015 Panthers) have gone on to play in the Super Bowl. And while Brady obviously plays a role in that point differential -- the Patriots rank third in the NFL in scoring at 27.6 points per game -- it is New England's top-ranked scoring defence that has been the difference maker in this area. This will be the first time since 2003 that Belichick enters the postseason with the NFL's stingiest defence -- of course, he went on to win the Super Bowl that season.
To put this year's defensive effort into perspective, the vaunted Broncos D that carried a hardly recognisable Peyton Manning to his second Lombardi Trophy last season allowed an impressive 18.5 points per game -- and as the confetti dropped on Super Bowl Sunday, that unit was being considered by many as one of the best defences in NFL history.
This year's Pats are allowing nearly three full points fewer, at 15.6 points per game! Yet, this defence is still flying somewhat under the national radar. But to me that unit will allow the Patriots to cruise to their seventh Super Bowl appearance in the Brady/Belichick era. (Well, along with a kind draw, which guarantees New England will be playing an underwhelming quarterback at home in the Divisional Round.)
NFC - DALLAS
COWBOYS
The Cowboys are clearly the most balanced and best overall team in the NFC. Unlike the AFC favourites -- the Patriots, who can change their entire offensive scheme from week to week -- the Cowboys don't overcomplicate the formula. They are going to line up and punish you with the most physical offensive line the NFL has seen in a decade, wearing you down with body blow after body blow. The difference with this rushing attack is that rookie running back Ezekiel Elliott is so much more than a downhill, punishing one-trick pony. He can hit the home run at any given moment with blazing speed -- and, like Adrian Peterson in his dominant years, Elliott can do it against a stacked box. In fact, he excels at it. Because once he punctures the first line of defence, there is no cavalry to come and save the day. The rushing game is also aided by stellar backups Alfred Morris and Darren McFadden -- the Cowboys can run at you all day.
Though the Cowboys can rush the football, I still think it will come down to rookie quarterback Dak Prescott winning a playoff game from the pocket.
This team, at least offensively, reminds me a little of the 2013 Seattle Seahawks -- while they had a dominant rushing attack with Marshawn Lynch and Russell Wilson, it was Wilson's maturation from within the pocket that was the difference come playoff time. I have no doubt that the Cowboys will have to win at least one postseason game in which it will fall squarely on Prescott and how well he can perform from within the pocket. I like what I see, but it's also true that the playoffs are a different animal than the 16-game regular season. If form holds true in Round 1, Prescott's playoff career will start by hosting the red-hot Green Bay Packers. But the 'Boys are still the favourites to run the table in the NFC.
THE UPSET BIRD IS
CIRCLING

As in all things there are road blocks on any road to greatness, here are two teams that could derail both the Cowboys and Patriots.
AFC - PITTSBURGH
STEELERS
Pittsburgh has the best players in the NFL at the skill positions of running back and wide receiver, and that fact alone will keep opposing coaches up at night. Le'Veon Bell, despite missing three games to suspension, ranked second in the NFL in rushing yards coming into Week 17 (Jordan Howard, DeMarco Murray and Jay Ajayi surpassed Bell while the Steelers back was held out for rest, Ezekiel Elliot won the NFL rushing title) and Bell finished second among running backs in receiving yards with 616 (only David Johnson had more).
Meanwhile, Antonio Brown barely missed out in leading the NFL in catches for the third consecutive season, kept from doing so by the Steelers' decision to rest him in Week 17.
Ben Roethlisberger started the season looking like an MVP candidate -- averaging nearly 300 yards through Week 10 while throwing 20 touchdowns to just seven picks -- but the wins weren't following, as the Steelers opened 4-5. Part of the problem was a lack of continuity -- with Bell missing the first three games, and then Roethlisberger banged up midseason, it was hard for the Steelers to get into a groove.
In the final seven weeks of the season, when Pittsburgh went undefeated, Big Ben averaged just 236 yards per game while recording a mediocre TD-to-INT ratio of just 9:6.
But that's also a product of how well the Steelers have run the ball. Starting with a Week 11 win over Cleveland to even their record at .500, the Steelers ran for 146, 148, 117, 240, 97 and 127 yards in a six-game surge to the AFC North title and No. 3 seed, an average of more than 145 rushing yards per game.
Combine that with the overall explosiveness of the Steelers' offence -- Roethlisberger, Brown and Bell can score from anywhere -- and Pittsburgh is the team that no one wants to play. If the Steelers beat Miami on Sunday, they'll have to travel to Arrowhead, but it's worth remembering that they hammered the Chiefs, 43-14 (in Pittsburgh), earlier this season.
NFC -
GREEN BAY
PACKERS
With all due respect to Tom Brady, there isn't a hotter quarterback in the NFL right now than Aaron Rodgers. The emergence of Davante Adams and the position change for Ty Montgomery (from receiver to running back) have been instrumental in the Packers closing out the season on a six-game winning streak, but Rodgers has been frighteningly accurate in the process. With those three hitting their stride and Jordy Nelson leading the NFL in touchdown receptions (14), Green Bay has scored 30-plus points in four straight games -- and 30 appears to be the Packers' magic number on the other side of the ball ... (The Cowboys also beat the Packers earlier this season in Green Bay 30-16 since 30 is the number of the day).
Green Bay is 10-1 when allowing fewer than 30 points this season. Read that again: The Pack is 10-1 when ALLOWING FEWER THAN 30. That is amazing to me, and not too much to ask of a defence, especially one coordinated by Dom Capers. Quality usually reveals itself, and after the Packers' midseason slump brought panicked calls for Capers' job, Green Bay's defense matured into an effective unit.
In Weeks 12 through 16, the Packers surrendered just 17.6 points per game while also manufacturing 14 takeaways in the process. (Without a garbage-time Hail Mary in Week 17, the Packers also held the Lions to 17 points while adding another takeaway.)
OTHER POTENTIAL
UPSET BIRDS
AFC - CHIEFS,
DOLPHINS
CHIEFS need to win one at home to set up a rematch from last year's playoff with the Patriots. Andy Reid is an excellent coach, WR Tarik Hill and TE Travis Kelcie are beasts.... but Alex Smith is their QB????
DOLPHINS can become a headache for teams once they pull the upset in Pittsburgh this weekend. This team plays on momentum and running the football, if they can recapture their early season magic against Pittsburgh, the fish could make a run. Be reminded though, this is a totally different Steelers team than earlier in the year.
NFC - FALCONS,
GIANTS
FALCONS have a high octane offence to go along with their 'Jekyll and Hyde' defence, which will be their undoing eventually, along with QB Matt Ryan having his usual playoff meltdown.
GIANTS need to survive the Packers in Green Bay, once they do that, we will revisit them. OBJ spotted partying in South Beach, Miami over the holiday weekend, not a good sign.
Until next week enjoy the Wild-Card weekend, I sure will, my Cowboys are chillin' until next week, no anxiety. I'm free to enjoy football in all its splendour, complete with libations and munchies in abundance.
Let there be football!!!