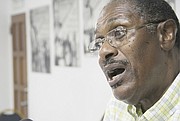 By SANCHESKA DORSETT
Tribune Staff Reporter
sdorsett@tribunemedia.net
PROGRESSIVE Liberal Party Chairman Bradley Roberts yesterday suggested that We March Bahamas lead organiser Ranard Henfield "get his head examined" for insinuating that the PLP allegedly recruited "gang leaders" to "convince the streets" to march with the governing party on Majority Rule Day instead of the activist group.
In an interview with The Tribune, Mr Roberts also implied that the PLP will not accept lead organiser Ranard Henfield's invitation for the two groups to march together for a "common loftier goal."
We March Bahamas and the PLP have conflicting marches planned for next Tuesday, which is Majority Rule Day.
On Monday, in a Facebook post, Mr Henfield claimed that he was approached by two gang leaders the day before who allegedly told him they were asked to get persons to march with the PLP instead of We March Bahamas.
He also posted an open letter to Mr Roberts, suggesting that the two groups march side-by-side from Clifford Park to Bay Street. Mr Henfield wrote that his group is certain Mr Roberts would put "country over party politics" and accept the invitation to march together for a "common loftier goal".
However, when contacted, Mr Roberts said he never received a letter from Mr Henfield and explained that there were "no changes" in the PLP's original plan to march.
He also said Mr Henfield "needs to have his head examined" while denying the PLP is associated or affiliated with any gangs.
"Is he okay in his head? He needs to have his head examined," Mr Roberts said.
"That is utter rubbish. We did not pay anyone, we did not recruit any gang members. If Mr Henfield was approached by gangsters then maybe they are his people and he knows them. Maybe he can identify them to police or whatever but they were not our people. As far as the march is concerned, nothing has changed. I did not get a letter from Mr Henfield asking us to join the march but the march is open to all Bahamians. We will not be wearing any political colours and therefore we cannot join a programme of wearing black and whose goals and objectives continue to drift," Mr Roberts said.
Earlier this week, Mr Henfield wrote on Facebook: "I pray about everything. Most times, God says 'stand firm but remain humble!' One of my biggest concerns is keeping the We March supporters safe. The next is to give a voice to the voiceless, then raise awareness to their plights and help them bring about change.
"On Sunday, I was approached by two different gang leaders at two different places, both of whom advised me that they've been asked to convince the 'streets' to march with the PLP instead of with We March. Both of them have chosen to stand with the people and have issued their orders on the streets that the people must stand up to government," Mr Henfield claimed.
"While I understand that some supporters of the status quo are trying everything possible to muzzle the people's voice, let us stand firm for one more moment then begin our journey towards a better Bahamas for all!"
Last week Wednesday, Mr Henfield revealed that "after several weeks of back and forth" the Cabinet Office rejected the group's application to protest in Rawson and Parliament Squares because the "event conflicts with another event" already booked for that date.
Yesterday in another Facebook post, Mr Henfield said it's time to "break rank" and "walk away from those parties, organisations and official positions that dictate that you cannot stand up for the people."
"So the people can't have Windsor Park because the political party of the day is leaving from there. The people can't have the Southern Recreation Grounds because the political party is headed there," Mr Henfield said.
"The people can't have Rawson Square because the political party is passing through there. The people can't have Crown land because the political party that 'Believe in Bahamians' didn't specify which Bahamians they believed in. We uproot the status quo and anyone that wants to oppress or victimise any of the Bahamian people."
We March Bahamas plans to march from the Clifford Park/Western Esplanade areas along Bay Street to Pompey Square at 10am on Tuesday. Meanwhile, Mr Roberts has confirmed that the PLP will march at 7am from Windsor Park ending at the Southern Recreation Grounds on Market Street.
We March Bahamas staged a massive protest on November 25, 2016, where more than a thousand people marched from Arawak Cay to downtown Nassau. A large group of protestors also occupied Rawson Square for 12 hours as part of the demonstration against the government and the status quo.