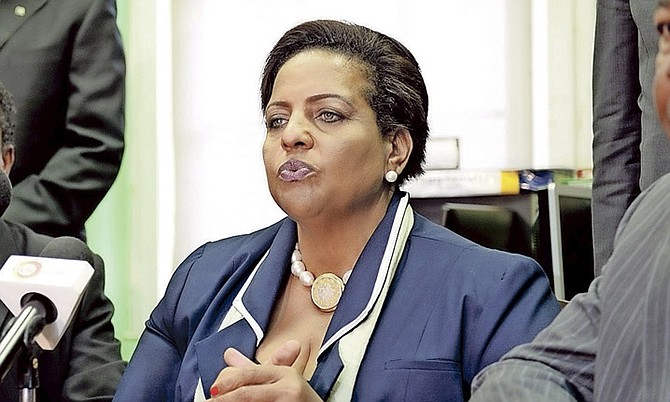 By SANCHESKA DORSETT
Tribune Staff Reporter
sdorsett@tribunemedia.net
LONG Island MP Loretta Butler-Turner said yesterday that she is forming a "very powerful and bold" coalition with Branville McCartney and the Democratic National Alliance that will "change the direction of the country."
In an interview on Hot 91.7 FM's "Morning Madhouse" with host "C-Note", Mrs Butler-Turner said the details of the "interesting" coalition will be announced "very soon".
Despite having her ratification for the Long Island constituency revoked by the Free National Movement's council, Mrs Butler-Turner also said she believes persons are more inclined to vote for a "person" rather than a "party" in the upcoming election.
Last month, after ousting FNM Leader Dr Hubert Minnis as leader of the Official Opposition in Parliament and obtaining the position, Mrs Butler-Turner appointed DNA Leader Mr McCartney as leader of opposition business in the Senate.
At the time Mrs Butler-Turner said the move was evidence that her team was willing to put the Bahamian people first to move forward to defeat the governing Progressive Liberal Party.
Announcing the decision at the time, she insisted that she and the six FNM MPs who support her have not joined the DNA, but were working together for a "common good."
"Branville and I and the DNA are going to have a very interesting coalition that we are going to reveal hopefully not too long from now," Mrs Butler-Turner said yesterday.
"I think it is important that persons like ourselves get in the driver's seat and be able to move the direction of the country. We are going to be bold in what we do. This generation requires us to produce change and if you want change, you have to be bold.
"So, I am forming a very powerful, bold coalition. Some people will second-guess my judgment but in the fullness of time they are going to appreciate and understand in order to frame history you cannot be passive. You have to go out and make things happen. So kudos to Branville and kudos to the magnificent seven who decided we could not go sit down on our morals and wait for things to happen. We are like fireworks, we will explode things and make sure we are able to make it happen."
Mrs Butler-Turner said whether or not she remains in the FNM, she will never distance herself from the philosophy of the party. She also said she believes during this year's election, the voters will concentrate more on individual candidates because the country's history has proven that voting for party "doesn't really work out".
"I think philosophically I will never ever distance myself from the philosophy of the FNM. It has framed my political outlook and as you all now time is of the essence and the FNM has disengaged me and whether legal or otherwise they have revoked my nomination as an FNM and so if I am going to continue to run I can't run under an FNM ticket, but stayed tuned," she said.
"People will realise they have voted for party for four generations and for four generations look at how we ended up and so we have got to be clear that we are going to do things differently. I don't think the people of the Bahamas have ever been faced with the boldness of bringing parties together, there have been parties that came together to form a new entity but as we move forward you are going to see something that is dynamic, that is going to bring fairness to the entire process of who becomes leader and so I think it will be a new option but people are looking for change and if they want change they cannot be picking two sides of the same coin."
In December, Dr Minnis said he was "more than confident" that political newcomer Adrian Gibson will unseat Mrs Butler-Turner in Long Island.
"We are not worried about Loretta - Adrian Gibson is running in Long Island as the FNM candidate," Dr Minnis said last month. "He will carry the torch. Her ratification has been revoked, we have now placed a new candidate in Long Island and Adrian Gibson will represent Long Island.
"I am confident that Adrian will win no matter who runs. You are witnessing a new generation, members of the change agenda. Long Island has always been FNM territory and I am certain that Long Island will remain FNM."
Mrs Butler-Turner and the six MPs who ousted Dr Minnis from his post as opposition leader face expulsion, suspension or a fine from the FNM.