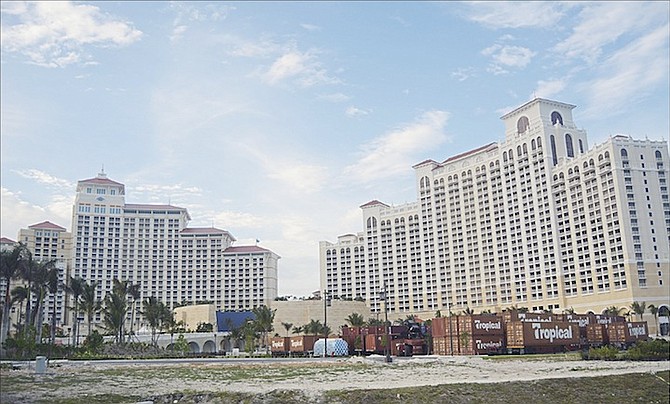 TRIBUNE BUSINESS: Baha Mar finish 100% 'VAT free' - Full story HERE
By NEIL HARTNELL
Tribune Business Editor
nhartnell@tribunemedia.net
THE Government was yesterday urged to divulge "the full cost to the Bahamian people" of its Baha Mar agreement after evidence emerged to show it had extended an exemption from Value-Added Tax to all companies and suppliers working on the construction completion of the resort.
The tax break - revealed in an email from the project's general contractor - could mean the Government forgoing up to $60m in revenue, according to one educated estimate, and is likely to provoke outrage among Bahamians, upset that exemptions are being granted to the Chinese when the same are not being made available to local businesses and consumers.
The email, from China Construction America (CCA) headlined 'Exemption of VAT' and issued yesterday morning, said all companies working on the completion of the stalled Cable Beach development had been granted "a full" waiver from payment of the 7.5 per cent levy.
Sent by Siyao Shen, of CCA (Bahamas) commercial department, it read: "It's agreed with the Government that the sub-contractors and suppliers of CCA Bahamas (CCA) shall be entitled to have the benefit of a full exemption from the payment of Value-Added Tax for works carried out on the Baha Mar project."
Having effectively confirmed that the VAT waiver covers all Baha Mar-related construction activity, and includes all its sub-contractors and suppliers - Bahamian and foreign - the CCA e-mail suggests that they can also recover the taxes paid on bills submitted by their own service providers and suppliers. It also suggests that all sub-contractors, suppliers and service providers working on Baha Mar will receive "zero-rated" treatment on all their costs and invoices.
However, a Government source familiar with the Baha Mar agreement said it was "not unusual" for sub-contractors working on major foreign direct investment projects to enjoy the same tax incentives as the main contractor.
FULL STORY, SEE BUSINESS