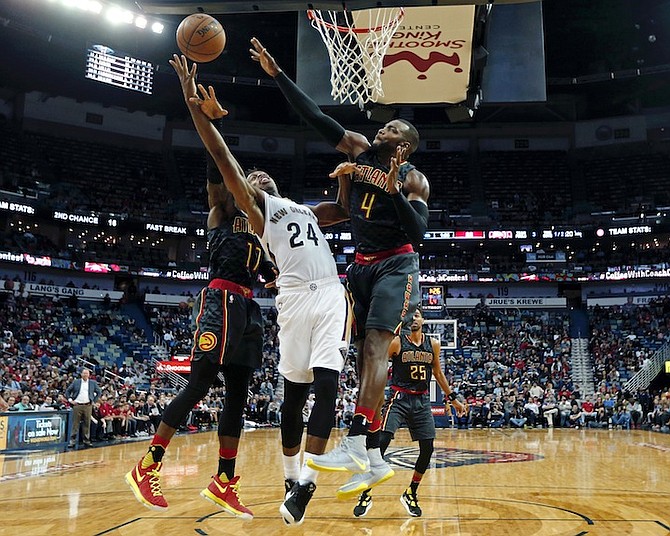 NEW ORLEANS (AP) — Bahamian Buddy Hield scored 15 points last night but the Atlanta Hawks beat the New Orleans Pelicans 99-94 to win their fifth straight, even as shooting guard Kyle Korver spent the entire game on the bench amid reports he could be traded.
Hield also had four assists, seven rebounds and one steal in 31 minutes on the floor. He sank a free throw, four three pointers.
Dennis Schroder scored 23 and Paul Millsap had 17 points and 10 rebounds for the Hawks, who trailed by three after Anthony Davis' dunk with 3:51 left before outscoring New Orleans 14-6 the rest of the way. Dwight Howard added 12 points and 11 rebounds, and Tim Hardaway Jr scored 14.
Davis had 20 points and 19 rebounds for New Orleans, which has lost its last two. Jrue Holiday added 18 points for the Pelicans, who shot only 36.6 per cent (34 of 93) for the game.
Atlanta matched its biggest lead at 83-76 on Kris Humphries' layup with 7:50 to go in regulation. The Pelicans began to close the gap when Davis converted a two-handed reverse layup of Holiday's alley-oop lob. That started a 12-2 run that included 3s by Holiday and Hield, along with Davis' emphatic dunk and his two free throws.
Hardaway Jr tied it with a 3, however, and after Hield's miss of a driving layup, the Hawks patiently worked the perimeter until finding Schroder for an open 3 that he buried with 1:13 to go to put Atlanta back in the lead.
Hield missed another driving layup attempt on New Orleans' next possession, and Millsap hit an 18-foot jumper to make it a five-point game with 38 seconds left. The Pelicans never got within three after that.
The Pelicans led by as many as 12 when Hield's 3 made it 43-31 with 4:04 left in the first half.
Atlanta cut its deficit to five points by halftime with a 7-2 spurt that included Schroder's 3 and a pair of jumpers by Mike Muscala, but New Orleans still led by eight in the third quarter before Atlanta went on a 12-2 run, capped by Hardaway's 3, to move back in front.
UP NEXT
Hawks: Visit Dallas
on Saturday night
Pelicans: Visit Boston
on Saturday night
Nene's late free throws lift
Rockets over Thunder, 118-116
HOUSTON (AP) — James Harden scored 26 points and Nene made two free throws with 0.7 seconds remaining to lift the Houston Rockets to their sixth straight win, 118-116 over the Oklahoma City Thunder last night.
Houston overcame Russell Westbrook's 49 points, though the star guard struggled down the stretch. Nene was fouled by Jerami Grant as he attempted a shot right under the basket, setting up the winning free throws.
A pair of foul shots by Harden tied it with just under two minutes remaining. The teams combined to miss seven shots after that, with Westbrook missing three in that span, before Nene's free throws.
The Thunder attempted an alley-oop on the inbounds pass after that, but Enes Kanter couldn't finish the play and Houston held on.
Westbrook finished two points shy of his season high as Oklahoma City dropped its third straight.