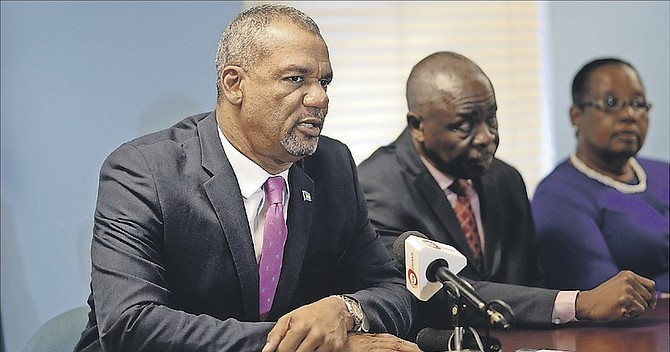 By AVA TURNQUEST
Tribune Chief Reporter
aturnquest@tribunemedia.net
DESPITE assurances that the recently tabled bill will be successfully passed into law, Education Minister Jerome Fitzgerald would not commit to whether the government will enact Freedom of Information legislation before the next general election.
Mr Fitzgerald noted that a luncheon meeting has been set for Monday to update and educate parliamentarians on the bill in a bid to ensure a comprehensive and informed debate.
The previous Ingraham administration passed a Freedom of Information Act shortly before the 2012 general election; however, there was no date for enactment.
On Wednesday, Mr Fitzgerald said there was no comparison between the two administrations, adding that the process for implementation will be more clearly defined during debate on the bill.
"I've made it quite clear what the process is," he said, "there was no process with the last piece of legislation, somebody sat in a room and drafted it and brought it before election. This has been a process that has been going on for the past two and a half years, this is a different process completely.
"This is a bipartisan process across the board that civil society was deeply involved in," he said, "you can't even compare the two."
Mr Fitzgerald said: "With regard to implementation, the (Freedom of Information) committee has laid out a timeframe with education and so forth. I haven't gotten the details of that yet but I think more of that will come out as we discuss it next week.
"There's a process on that and when we go to debate, we will be more definitive."
He continued: "It definitely will pass through Parliament, without a doubt. I'm hoping to have the debate as soon as possible, I'm having the education for the MPs on Monday and that is just to show you how serious I am, and the government is, about moving ahead to ensure that this is debated and passed through both Houses of Parliament."
Mr Fitzgerald defended the "benchmark" bill on the sidelines of a press conference to announce that the government will host the ninth Inter-American Meeting of Ministers of Education (9IAMME) next month.
The FOI bill was branded a "missed opportunity" by more than 20 civil society organisations (CSOs) in a joint statement released after its tabling on December 14.
The CSO collective noted that while the government adopted several suggestions collected during public consultation earlier in the year, it abstained from taking on any of the major concerns raised by civil society.
Three main areas that the group found the bill was still lacking included: the selection process of the information commissioner, the scope of public authorities subject to the bill, and the long time limits for making information accessible.
On Wednesday, Mr Fitzgerald disputed the number of recommendations that were not used from civil society.
"I don't know about some of their major recommendations not being used," he said. "I know about one that wasn't followed out of about 12 or 15 and everybody knows that a Freedom of Information Act, at the end of the day you have to see what suits best for your government structure. There was a particular recommendation that we did not follow for a particular reason with regard for our governmental structure set up, with regard to our Westminster system, for no other reason."
Mr Fitzgerald added: "I think this is a good piece of legislation that benchmarks against other legislation within the region, that shows what can happen when we as a country come together in our best efforts, this legislation is reflective of that. Not everyone got everything they wanted, not even the government but at the end of the day I think it would be very hard to say this legislation doesn't benchmark."