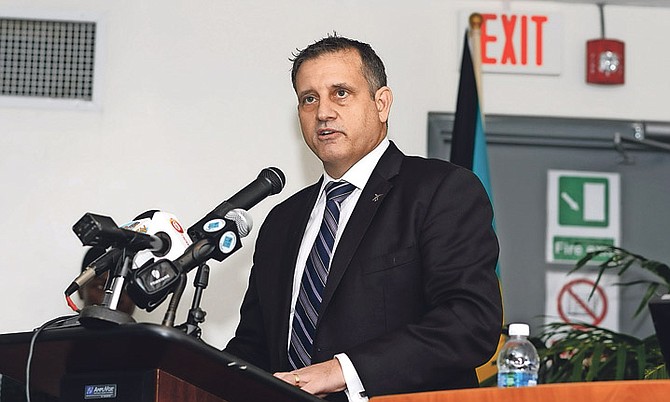 By NICO SCAVELLA
Tribune Staff Reporter
nscavella@tribunemedia.net
THE Tribune Media Group on Friday cemented an "historic" partnership with the Public Hospitals Authority (PHA) to advance the fight against pediatric diseases in the Bahamas, an alliance local health officials said will have a "significant impact" on the delivery of pediatric care throughout the public healthcare system.
The Tribune Media Group, along with the Aidan Roger Carron Foundation, named after the son of Tribune Media Group President Robert Dupuch Carron, executed the "ground breaking" public-private partnership with the PHA with an aim to raise awareness about and subsequently battling various diseases, such as HLH, Leukaemia, Diabetes and Cancer.
The partnership came as a result of Aidan's perilous yet successful fight for survival against a deadly auto-immune disease, Hemophagocytic Lymphohistiocytosis (HLH). In July, the seven-month-old contracted a high fever following routine vaccinations and had to be medically evacuated to Florida for specialist treatment.
Though recovering well after five months in the Nicklaus Children's Hospital in Miami, Aidan's plight prompted Mr Carron and his wife, Elizabeth, to establish the Foundation and forge a partnership with the PHA to ensure that what happened to Aidan does not happen to other familes. 
"Today is not about our journey," Mr Carron said during a launch ceremony at the PHA on Friday. "Today is not even about our son. Today is about bringing together partners from all walks of life with a common goal of transforming our approach to pediatric healthcare, so that … no child is left behind.
"It is also about recognising and saluting all those who, without their extraordinary efforts, many other children would not be here." 
According to Mr Carron, the aim of the partnership is to create "compelling, engaging multi-platform educational campaigns that inform, educate and empower our parents and citizens"; diagnose, track and treat auto-immune diseases with "state-of-the-art equipment and treatment protocols" and "access to leading health professionals from around the world"; and to establish "global partnerships with world-class institutions," such as Nicklaus Children's Hospital in South Florida.
Key to the effectiveness of the partnership, officials said, was the Carron family's "historic" consensual release of Aidan's confidential medical records, which senior health officials called an "unprecedented and generous act which undoubtedly will help to achieve positive health outcomes for other families in the years to come".
As well as the release of Aidan Carron's records, Frank Smith, the PHA Chairman, announced the initiatives, including releasing information on the top ten diseases afflicting children and pregnant women nationally, fund raising campaigns for tele-health (accessing expertise abroad) and for equipment, and publicly recognising those individuals who have gone "beyond the call of duty" in providing levels of care and compassion through the islands via a PHA Heroes award scheme.
"Healthcare is on the frontline of sweeping change and great challenges worldwide," Mr Carron added. "These waves of change are redefining health care - not just in any one country, but the entire globe. Reform has never been more need - or more urgent.
"Demographic shifts, medical advances bring new possibilities but cause new problems. Expectations rise but somehow costs never fall. And in a world of open borders and easy travel, problems in one part of the world quickly land on our doorstep the next day."
Dr Jefry Beihler, Chairman of Pediatrics and Emergency Medicine at Nicklaus Children's Hospital who also sits on the hospital's board of governors, said Nicklaus Children's Hospital is happy to be a part of such an altruistic endeavour.  
"Nicklaus Children's Hospital looks forward to formalising a better relationship, an ongoing lasting relationship that allows our friends and colleagues from this country to help us provide services to the children of the Bahamas," he said. "We believe with our family-centred care, our many experts and specialists in different forms of pediatrics, we're able to help provide a level of care that will meet your expectations, and will also help meet the needs of your children, grandchildren, and all the children that are here in the Bahamas. 
"Through technology and teamwork we believe that we can come together and provide assurance and assistance to those in need."
Health Minister Dr Perry Gomez, on hand for the official launch ceremony, said the Ministry of Health, and the Christie administration by extension, is in full support of the partnership. 
"When one takes into account the transformation in healthcare currently being undertaken by my government, it is these types of partnerships that forge new opportunities to raise the bar. When private and corporate Bahamas can come together for the benefit of all, we have the right prescription for progress. 
"This public event today demonstrates that once again, committed persons from the public and private sector have come together to take a remarkable stride in service of better healthcare for the Bahamian people."
Herbert Brown, the PHA Managing Director, spoke of healthcare depending on teamwork and pointed to the public-private partnership as ideal in focusing the requisite skills, knowledge and experience.