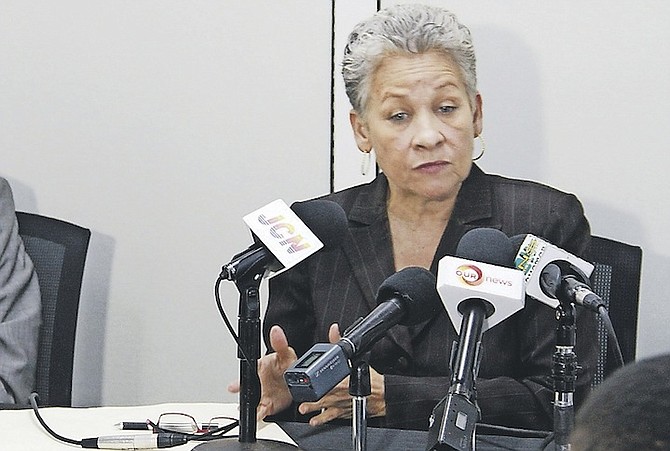 By SANCHESKA DORSETT
Tribune Staff Reporter
sdorsett@tribunemedia.net
TRANSPORT and Aviation Minister Glenys Hanna Martin said she is "outraged" that women registering to vote are still being turned away by staff of the Parliamentary Registration Department because of "the way they are dressed".
In a statement on Facebook, Mrs Hanna Martin said it is "beyond unacceptable" and cannot be tolerated that woman are being prevented from exercising a fundamental right.
"The parliamentary commissioner must immediately direct his staff to respect the fundamental rights of women as they seek to exercise the franchise: A right that women heroically and courageously fought for and will not be easing up on any time soon," Mrs Hanna Martin posted to Facebook on Friday.
Her comments came hours after The Tribune spoke with a lawyer who claimed that she was "physically removed" from the Cable Beach Post Office by police, after she refused to accept that she could not register because she "had on a sleeveless dress."
The woman, who wished to remain anonymous, said she was given approval to take the picture by the registrar, however after the photographer at the site found her clothing "inappropriate" the registrar then decided that she could not have her picture taken.
The lawyer stood her ground and refused to leave but after a few minutes of back and forth, the police were called and she was removed from the premises.
Last month, amid reports that women were turned away from voting sites because of "improper" attire, Parliamentary Commissioner Sherlyn Hall said women registering to vote with "half their breasts out" is not permitted.
Mr Hall was contacted after a pregnant woman who did not want to be identified, told The Tribune she was told by registration officials at the Elizabeth Estates Post Office that she would not be allowed to register to vote on separate occasions because of what she was wearing at the time.
On her second attempt she went into the post office wearing an ankle length maxi dress, but was still not permitted to begin the process.
Returning for a third try, the expectant mother wore a jacket and was still told that she was too bare, so she had to put on a scarf in order to be registered.
The Parliamentary Elections Act makes no mention of dress code.
Since then, Opposition Leader Loretta Butler-Turner demanded that Mr Hall explain the provision in law governing the enforcement of a dress code being used to hamper and obstruct the democratic right of a citizen to freely register to vote.
FNM Chairman Sidney Collie has likened the reports to voter suppression by the Christie administration.
Last week, Democratic National Alliance Deputy Leader Chris Mortimer also threatened to take action that would "compel" Mr Hall to ensure everyone is allowed their right to register.
He said although the party hasn't defined what this action will be, it could involve a demonstration at the Parliamentary Registration Department on Farrington Road or a decision to take legal action against Mr Hall and his department for infringing upon the rights of Bahamians to register to vote.
Last week, National Security Minister Dr Bernard Nottage said a person's attire would not hinder them from voter registration.
"Some of the things that I've heard on the radio are surprising to me," Dr Nottage, whose Cabinet portfolio includes elections, told The Nassau Guardian last week.
"There are no such regulations with respect to the way you dress.
"Of course like anybody else, one would wish to dress appropriately but we do not know the circumstances from which people come," he said.
"Some people are doing well and some are not doing so well, and so no hindrance should be put in the way of people registering to vote by the parliamentary registrar or anyone else."