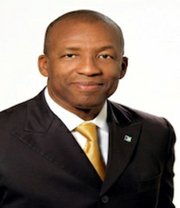 By SANCHESKA DORSETT
Tribune Staff Reporter
sdorsett@tribunemedia.net
FORMER Attorney General Alfred Sears on Monday called for the leaders of the Progressive Liberal Party (PLP) to "embrace" the We March Bahamas movement rather than attempting to "suppress the group by flexing their muscles."
Mr Sears told a morning radio talk show the people are not interested in the government being petty and said it would be a "grave mistake" for the party to "ignore the voice of the people."
Activist group We March Bahamas and the PLP have been at odds since We March staged a massive protest on November 25, 2016, where more than a thousand people marched from Arawak Cay to downtown Nassau. A large group of protesters also occupied Rawson Square for 12 hours as part of the demonstration.
The group has planned another march on Majority Rule Day, January 10, which conflicts with the PLP's march to cerebrate the 50th Anniversary of the historic day.
PLP Chairman Bradley Roberts and lead organiser of We March Ranard Henfield have also exchanged harsh words.
Mr Henfield has alleged he was approached by two gang leaders who claimed they were told to get the "streets" to march with the PLP instead of We March Bahamas.
In response, Mr Roberts said Mr Henfield needed to "get his head examined".
In an interview on Hot 91.7 FM's "Morning Madhouse" with host "C-Note", Mr Sears said: "The We March organisers have expressed deep disquiet within the Bahamas and while I am a member of the PLP I have to as a person who loves the Bahamas acknowledge that we are on the wrong path, rather than reacting by trying to suppress what I consider to be a democratic dissent, we ought to embrace them and if we were the opposition we would be seeking to exploit the We March movement ourselves.
"I think it would be grave mistake not to grapple with the opinions being expressed.... I am calling for the leaders in the PLP to reach out and embrace We March and to engage in a conversation. I know how difficult it is and you want to flex your muscle and carry a narrative of success but I think that our young people aren't interested being petty. They want to see a country where people can sit with a shared patriotism and a shared vision for the future and this particular event around majority rule, demand that we show the kind of maturity that Stafford Sands and Henry Milton Taylor."
Ahead of the group's first demonstration, Prime Minister Perry Christie agreed to meet with Mr Henfield to discuss the group's 23 list of demands, however Mr Henfield refused to meet with the prime minister.
Last week, Mr Henfield extended an invitation to Mr Roberts for the two groups to march together for "one loftier goal," but Mr Roberts declined the offer. A few days later, Mr Henfield said he never really intended to march with the PLP.
We March Bahamas plans to march from the Clifford Park/Western Esplanade areas along Bay Street to Pompey Square at 10am. The march is part of a protest against the government and the status quo.
Meanwhile, the governing party, which will be celebrating the 50th anniversary of the historic day, will march at 7am from Windsor Park ending at the Southern Recreation Grounds on Market Street, as part of celebrations for the holiday.
Mr Sears is the PLP's candidate for the Fort Charlotte constituency. He also plans to challenge Mr Christie for his post as party leader at the PLP's convention later this month.