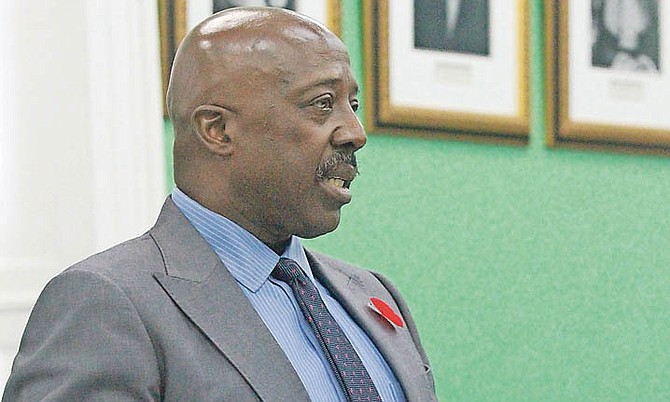 By KHRISNA VIRGIL
Deputy Chief Reporter
kvirgil@tribunemedia.net
CONTRACTS valued at some $3.5m have been issued for labour and material to repair homes damaged by Hurricane Matthew last year, Labour Minister and Hurricane Czar Shane Gibson told Parliament on Monday.
Mr Gibson also revealed that the response to the loan programme for public officers and employees of the government for hurricane related repairs has been "overwhelming", to date totalling $24,109,165. He said this number was equivalent to 5,128 loan approvals.
In addition, Mr Gibson said the government has spent $10m on clean up activities up to December and $1m to remove debris in Grand Bahama. Mr Gibson added that just under $300,000 was spent in North Andros and almost $40,000 in Central Andros.
He said: "The door-to-door assessments of private homes is virtually complete. Nearly 10,000 assessments have been conducted. This was truly a mammoth task particularly in New Providence and Grand Bahama.
"Some persons may have been inadvertently missed and I advise those persons to contact the technical unit in New Providence at 376-8911 or 376-8932, that is the persons whose homes may have been inadvertently missed during the assessment. Persons in Grand Bahama who require assessments can contact the Department of Social services or Urban Renewal.
"Remaining technical assessments of homes affected in the Central Andros district were completed by Friday, December 9, 2016. We are satisfied that all impacted houses in Central and North Andros have been assessed.
"Mr Speaker, the voucher programme for material for qualified homeowners to carry out repairs is progressing very well. To date vouchers valued at just over $1m have been approved to over 664 persons as follows: New Providence, 219 at a cost of $460,000, Grand Bahama 428 at a cost of some $764,000 and North Andros, 17 at a cost of some $23,100. That's a total of 664 homes for vouchers at a cost of just over a million dollars.
"I must add that most of the homes in North Andros actually require building and material. That's why you see a low number of vouchers actually issued in North Andros."
He said signed agreements are in place with participating suppliers on New Providence, Grand Bahama and in North and Central Andros.
"Mr Speaker, a considerable number of residences qualify for assistance with labour and material. In these instances NEMA provides the materials and small contractors are engaged to carry out the repairs. The issuance of contracts for labour and material is well underway thus far contracts valued at some $3.5m have been issued . . . " he said.
"I think I mentioned before we completed 554 assessments and what we do in Andros and New Providence is that we issue letters of intent for the contractors to verify the amounts and once the amounts are verified they are brought back to us to be executed. And so Andros even though we only have five homes under contract, we have already issued 69 letters of intent that are given to the contractor.
"So some 229 contracts have been issued for cash value of some $3.5m. I wish to stress that this number represents signed contracts for repairs which are either in progress or about to commence. The process of negotiating and issuing contracts is ongoing," Mr Gibson said.