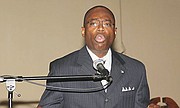 By KHRISNA VIRGIL
Deputy Chief Reporter
kvirgil@tribunemedia.net
HOUSE Speaker Dr Kendal Major, who is also chairman of the Constituencies Commission, is "disappointed" that the group has not completed its report, while revealing that several factors, including low voter registration numbers and "contention" among members, delayed its progress.
Speaking in the House of Assembly on Monday, he explained that the contention among the rank and file of the commission was sparked by the leak of information from deliberations into the public domain and published in local newspapers and social media. This, he said, was certainly displeasing.
Dr Major announced that if needed, the commission would labour over Parliament's break to finish its report.
He said it was the commission's intention to table this document at the first sitting of the House in January, which was Monday.
"You may have seen and heard some press statements," Dr Major said on Monday. "I just want to clarify and indicate that it was the intention today to deal with matters as it relates to the report and obviously that didn't happen much to my disappointment. However, the chair anticipates and will continue to anticipate the report from the governing members and also the opposition members with respect to recommendations as we move forward.
"I have noted that this is a very unique situation in this session because of some mitigating factors, one of which is there had been a leak of some proposed information that made it on social media and in the dailies, much to the chagrin of the chair and it certainly undermines the process and makes this somewhat unprecedented that we who are sworn to secrecy somehow in our deliberations on matters such as this were leaked to the public.

"So that has caused great contention within the rank and file of the commission and it is important that you note that the chair was certainly displeased about that."
He continued: "Secondly, there has also been a change in membership with the apparent revocation of the member for East Grand Bahama (Peter Turnquest) and the new member the member for St Anne's (Hubert Chipman) there has been a slowing of the process and that also had been unprecedented in that regard. There is no fault there, however, it is what it is.
"And thirdly the low voter turnout is a factor. So I am advised that we are above or there about 500 persons a day but there is a greater capacity or opportunity for more persons of the public to be registered. The Parliamentary Registration Department has said they would like the report as soon as they are able to do so. So I want all members to set an example by registering yourself without delay and to encourage those other persons that you influence to register as soon as practical as there are many opportunities for all persons to register at the many centres throughout our Commonwealth."
Mr Chipman replaced Mr Turnquest on the committee after Long Island MP Loretta Butler-Turner was voted as the new leader of the Official Opposition in Parliament. It came after she and six other Free National Movement (FNM) MPs submitted a letter of no confidence in Killarney MP Dr Hubert Minnis to lead them in the House.
The Tribune reported last month that the commission intends to create a new constituency in New Providence.
It is understood that portions of Englerston, Centreville, Bain and Grants Town and Fort Charlotte will be redrawn to reconstitute St Cecelia.
This constituency was eliminated before the last general election and divided among Bain Town, Englerston and Centreville.
In December, Mr Turnquest told The Tribune the Constituencies Commission missed its self-imposed deadline to submit recommendations for boundary changes. At the time, he speculated that the report would not come until 2017.
The MP speculated that the deadline had been missed because the governing side was still mulling over additional constituencies in a bid to bolster support in tough areas.
He maintained that there was not enough information to make a scientific decision on any boundary changes due to low voter registration.
The commission used data from the 2010 census that had been extrapolated in a 2016 report prepared by the Department of Statistics, to guide recommendations.
The Constituencies Commission is comprised of Dr Major; Senior Justice Stephen Isaacs, vice-chair; government members, Deputy Prime Minister Philip Davis and Jerome Fitzgerald; Mr Chipman; and House clerks Maurice Tynes and David Forbes.