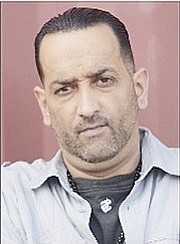 By Inigo 'Naughty' Zenicazelaya
SO there's no confusion, there was a typo last week, my actual final tally was 164-90-2 for the regular season, (hey Sheldon Longley over there at my old stomping grounds, the Nassau Guardian, that's a dead heat, so stop telling folks on FB you beat me! If you want to break the tie, my Cowboys were 13-3 your Dolphins 11-5, I win.)
The Tribune picks crown firmly on my head, and what do I do?
Only go a perfect 4-0 in Wild Card Weekend.
Just like my Cowboys, I look to continue the hot streak this week, short and sweet has been the winning formula for the year, so I'm not stopping now.
• Here's who I like this week:
TEXANS vs PATRIOTS
Upset bird swirling in this one, NOT!
Patriots big at home, despite some 'freakish' plays from TEXANS DE Jadaveon Clowney.
PATRIOTS 34 - TEXANS 17
STEELERS vs CHIEFS
There's a big myth about playing the CHIEFS in Kansas City in the playoffs.
Myth has it they are unbeatable and a tough challenge......Lies I say, the CHIEFS are 0-4 in their last four playoff games in KC, to this end, give me the 'Killer B's' on the road!
STEELERS 27 - CHIEFS 26
SEAHAWKS vs FALCONS
Battle of the birds in this one, lots of intangibles in this one.
Coin out......flip......SEATTLE on the road. The 'Upset Bird' soars in this one.
SEAHAWKS 31 -
FALCONS 30
PACKERS vs COWBOYS
I don't have time for the back and forth in this one, click bait articles have opinions flying all over the Internet, most claiming a Packers upset.
Total lunacy, real quick here's 5 quick points why the COWBOYS win:
Zeke runs wild again. 200 yards 2 TDs.

Dak remains cool under pressure, proving how special he is once again.

Dez Bryant plays in this one, he was injured in the previous meeting, a 30-16 COWBOYS win, and exorcises the demons from 'The Non Catch' in Green Bay two years ago. (It still was a catch in my book)

Best offensive line in football, controls the line of scrimmage and the clock.

Packers have no answer for COWBOYS DE David Irving.
That's just 5 reasons, and if you want 500 more reasons why the COWBOYS will win, just holler at me.
COWBOYS 34 - PACKERS 27
Until next week, HOW BOUT THEM COWBOYS !!
LEO B's PICKS
FALCONS
PATS
STEELERS
PACKERS