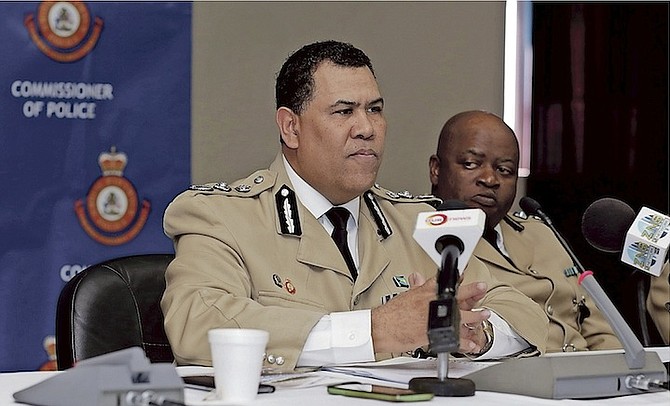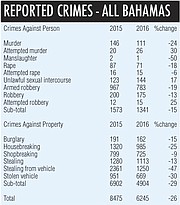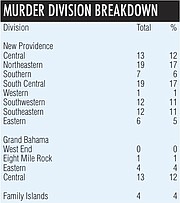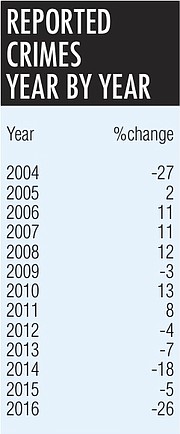 By RASHAD ROLLE
Tribune Staff Reporter
rrolle@tribunemedia.net
SERIOUS crimes in The Bahamas declined by 26 per cent in 2016, the most significant year-to-year drop since 2004, Police Commissioner Ellison Greenslade revealed yesterday.
Describing 2016 as "extremely productive" for police, Commissioner Greenslade, addressing his annual meeting with the press, said: "We aligned ourselves with all of those action points in the policing plan that we put to you in 2016 and those actions that we took in a collaborative fashion produced extremely good dividends."
He added: "Are we really satisfied that we are where we should be? Absolutely not. We still have far too many of our young sons and our relatively young daughters who are not behaving in a manner which brings any pride to us as a country or to us as family members."
According to police, the overall decrease in serious crimes was influenced by double digit decreases in almost every category of crime, he said.
This included a 24 per cent drop in murders, falling from a record 146 in 2015 to 111 in 2016, according to police statistics.
The murder total last year was the lowest since 2012, though it continued to
conform with the concerning high murder rate trend that began within the last decade.
The RBPF's record of murders in 2016 differs from The Tribune's total of 114.
However Commissioner Greenslade said some matters reported by police last year are before the coroner and have therefore not yet been classified.
Nonetheless, 85 per cent of the murders last year were committed with the use of a gun, compared to 12 committed with a knife.
Seventy-two of the murder victims in 2016 were adult men between 18 and 35 and seven were women.
The crime statistics booklet provided to the press said: "Twenty-four of the murder cases were drug related, 23 were gang related, conflicts between persons accounted for 19 cases, and 14 cases were as a result of retaliation because of ongoing feuds between people known to each other."
It added: "The highest number of murders were recorded in the south-central division (19) and northeastern division (19), followed by central division in New Providence (13) and central division in Grand Bahama (13)."
"Most murders (54 or 49 per cent) were committed on Monday nights between the hours of 4pm and midnight. Most murders were committed on the streets."
Commissioner Greenslade expressed concern about the detection rate of murders in 2016, saying it was "relatively low" compared to the past.
He believes this is because witnesses to alleged crimes are intimidated by accused murders granted bail.
Witnesses are also approached by "unscrupulous persons who convince them to file affidavits to recant their initial statements to police," he said.
Finally, he said the low detection rate is likely influenced by retaliation by associates of victims "who seem to have acquired a propensity to settle matters away from the courts."
The Commissioner again lamented the impact that granting bail to people accused of serious crimes has on policing efforts, as he gave examples of people who have continually been arrested and taken before the courts where they are then granted bail, only to return to criminal activity.
"If we do not do something about re-offenders who in a very short time after being arrested for serious crime are back in our communities re-offending, again committing serious crimes, we're never going to solve the problems we have and we are going to lose the good reputation that we have," he said.
His characterisation of the bail problem came although Attorney General Allyson Maynard Gibson released statistics last year indicating that the rate of bail granted to people accused of serious crime has been on the decline because of the efforts of her office.
Besides murder, many categories of serious crime saw double digit per cent decreases in 2016.
Three exceptions were attempted murders, which rose by 30 per cent, 20 in 2015 compared to 26 in 2016; unlawful sexual intercourse, which rose 17 per cent from 123 in reported instances in 2015 to 144 in 2016; and attempted robbery, for which there were 15 reported cases, a rise from 12 from 2015. This represents a 25 per cent increase.
According to the figures, there was a 50 per cent decrease in manslaughter, from two cases in 2015 to one last year; an 18 per cent decline in rape, from 87 in 2015 to 71 in 2016; and a six per cent drop in attempted rape, from 16 cases in 2015 to 15 in 2016.
There was a 19 per cent decline in armed robbery, from 967 in 2015 to 783 last year. There was a similar decline in robbery incidents, from 200 in 2015 to 175 in 2016, a decline of 13 per cent.
Across the board, a decline in crimes against property was recorded in 2016 as well, for an overall decrease of 29 per cent in this category.
This included a 15 per cent decline in burglary, from 191 to 162 in 2016; a 25 per cent decline in housebreaking, from 1,320 to 985 in 2016; a nine per cent decline in shop breaking, from 799 to 725 in 2016; a 13 per cent decline in stealing, from 1,280 to 1,113 in 2016; a 47 per cent decline in stealing from vehicles, from 2,361 to 1,250 last year and a 30 per cent decline in stolen vehicles, from 951 to 669.