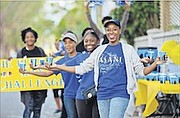 FOR months people around the world, and here at home, have been preparing for the Sunshine Insurance Race Weekend.
And, for the fifth consecutive year, Caribbean Bottling Company - the local producer of Coca-Cola products - will also be there.
This race weekend, runners, walkers and joggers alike will be hydrated with locally produced Dasani water.
"We are delighted once again that Dasani has agreed to participate at the gold level being our exclusive water for the Sunshine Insurance Race Weekend," said Chakita Archer, organiser of the Sunshine Insurance Race Weekend. "Our two-day event consists of the Susan G Komen Bahamas Race for the Cure and Marathon Bahamas which fields thousands of runners, participants and spectators. We applaud Dasani for their continued support in assisting with creating an awareness about cancer in our country and contributing to raising funds for our beneficiaries to carry out their objectives in helping persons. We always look forward to have Dasani partner with us in this great initiative."
"Offering race options for all age groups, and fitness levels (from the 5K to a full marathon) the Sunshine Insurance Race Weekend truly is a premier race event," said Cara Douglas, the marketing manager at Caribbean Bottling Company.
"It offers a wonderful platform to encourage activity and community development. For this reason, we are very happy to support this ever growing event, and hydrate all participants with Dasani throughout the weekend."
Within the past two years Dasani has become a prominent fixture on the Bahamian race and athletics scene. Dasani hydrates large national events such as Bahamas Half Marathon, CIBC Walk for the Cure, Atlantic Medial Fun Run Walk, and Bahamas Bowl, as well as smaller community events such as Run For Pompey (Exuma), Dog Days Half Marathon (Grand Bahama), Sandilands Run/Push-A-Thon, and countless others.