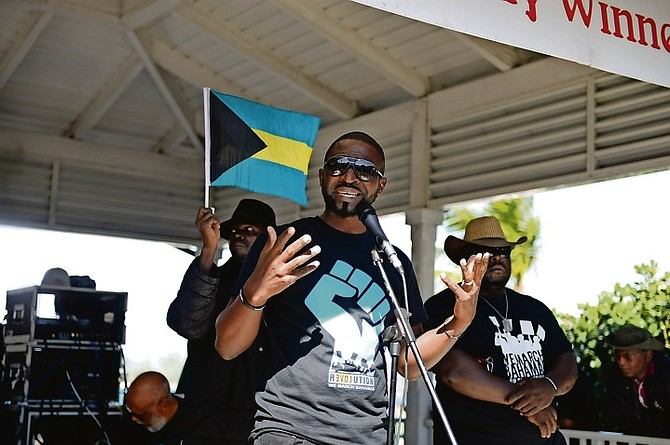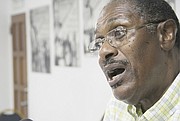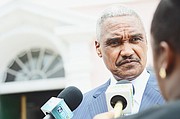 By NICO SCAVELLA
Tribune Staff Reporter
nscavella@tribunemedia.net
WE March Bahamas lead organiser Ranard Henfield on Friday hit back at Progressive Liberal Party (PLP) Chairman Bradley Roberts and Tall Pines MP Leslie Miller, accusing both of knowing how to engage in nothing but "dirty politics, dirty fighting, insulting people (and) threatening people".
However, Mr Henfield, on the sidelines of a symposium to commemorate the 50th anniversary of Majority Rule at the University of the Bahamas, said while he "appreciates" and "respects that that's their role" in life, both Mr Roberts and Mr Miller represent the country's "past" and that he and We March Bahamas will "simply ignore them and focus on what we came here to do".
Mr Henfield also said We March has plans to stage another march, but declined to give a date lest the government "cancel a holiday or cancel Sunday or make Sunday Monday". However, he said that supporters of the activist group have indicated that "shirts (are) washed up, ironed and hanging" and are "just waiting for the next call". He also said the activist group will be releasing 150,000 copies of the "People's Manifesto", something he said the "average citizen" can use to show to potential political candidates that Bahamians "want an agenda that is strictly for the majority of the Bahamian people".
Mr Henfield's comments were in response to statements made by the veteran PLPs in the lead up to the government's planned Majority Day Rule march, and We March's planned protest against the government on the same day.
Last week, while a guest on radio talk show "Hard Copy" with host Steve McKinney, Mr Miller said that with a man like Mr Henfield there was no time for discussion, "you could only break one damn bottle upside their head".
Mr Miller had become angered when Mr McKinney suggested that Mr Miller symbolically join hands with the activist. That was the latest of Mr Miller's scathing criticisms of the community activist since his rise to prominence following We March's initial protest in November. Mr Miller has also called Mr Henfield a "lost fool" who is out of his depth and needs to "wake the hell up", and has said he is lost in a "political whirlwind where he feels powerful and thinks all those people next to him respect him".
Meanwhile, Mr Roberts recently referred to We March Bahamas as a "rebel group" and called Mr Henfield "a confused boy". A few days earlier, Mr Roberts suggested that Mr Henfield "get his head examined" for insinuating that the PLP allegedly recruited "gang leaders" to "convince the streets" to march with the PLP on Majority Rule Day instead of the activist group.
"I appreciate that all they know is dirty politics, dirty fighting, insulting people, threatening people," Mr Henfield said in response. "I appreciate that. I respect that that's their role, that's what they do. That's the past. I represent the future for this country and the way we're going to move with respect to persons like that is simply ignore them and focus on what we came here to do.
"We came to uproot the status quo. I read an African proverb the other day that said a young lion is not bothered by the barking of a potcake. So I'm not going to be distracted by the likes of Bradley Roberts or Leslie Miller. I'm going to maintain the focus I have, which is to uproot the status quo, put the people's manifesto forward and return the power to the people."
Mr Henfield also said the group has another march planned for 2017, but did not give a specific date out of concern that the government would seek to alter the Bahamian and/or public holiday calendar out of spite, as had been the speculated reason behind the government's decision to change the observance date of Majority Rule Day from January 9 to the actual date of the historic even a day later. The date change had been perceived by many as an attempt by the government to strike a blow to the success of We March's second protest.
"I can't say when the next march is because based on what happened the last march we don't want them to cancel a holiday or cancel Sunday or make Sunday Monday," he said. "So basically we know the date, we'll probably put that date out a week before the march, and the good thing about We March, is (it is) able to galvanise thousands of people in some 24 hours. So we can announce that next march 24 hours out. And the base of We March had is ready to roll. Persons have indicated from Wednesday, shirts washed up, ironed and hanging, Just waiting for the next call.
"So we're not going to put that out in advance to allow the administration to jump up and say they have events planned for x,y,z street or the venue. We're going to keep that close and in the meantime we're just going to educate people on what they have put forth as the people's agenda and the people's manifesto."
We March Bahamas first staged a massive protest on November 25, where more than 1,000 people marched from Arawak Cay to downtown Nassau. A large group of protestors also occupied Rawson Square for 12 hours as part of the demonstration against the government and the status quo.