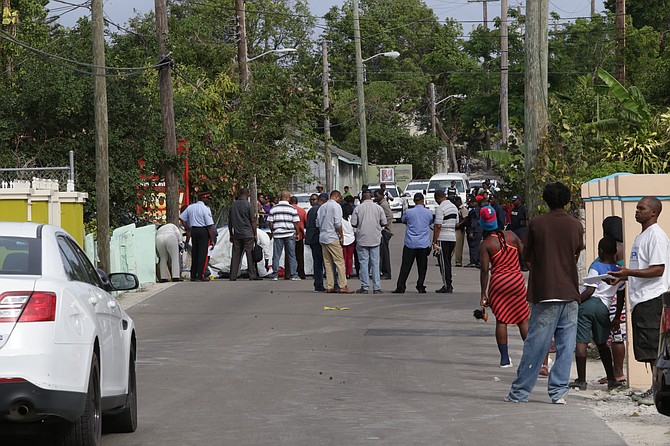 A MAN has been killed in a drive-by shooting on Kemp Road near Strachan Corner on Saturday morning as the murderous start to the new year continued.
Assistant Commissioner of Police Stephen Dean said that shortly after 9am the man was in the Kemp Road area when the occupants of a Honda Fit vehicle pulled up and fired several shots at him, killing him. He was pronounced dead on the scene.
ACP Dean said they did not have any details or motive for the killing but appealed to the public for information.
"As we always do we are asking for members of the public who might have been in this area, or might have been canvassing in the area who might have some sort of information, immaterial to how insignificant it might seem we ask you to contact the police immediately," ACP Dean said.
He said police "want to put a word out to the criminal element, who despite our warnings, who despite what is happening, they continue to try to reap havoc on our communities, particularly communities, small communities like this, knitted communities".
He vowed the police would "spare no efforts in 2017 to make sure they are arrested and that they are behind bars and that justice is brought to them. We cannot allow these criminal elements to continue to run around through New Providence or anywhere in the Bahamas feel there is no justice, that there's no law and order. They must be brought under subjection and we will do so."
It is the eighth homicide of the new year according to The Tribune's records.
It is the second incident in the area in a couple of days. On Wednesday night, 24-year-old Kevin Rolle aka 'KJ', was discovered dead near the intersection of Kingston and Denver streets, off southern Kemp Road, with multiple gunshot wounds.
He was known to police and, according to local residents, was reportedly released on bail in recent months. He was rumoured to be connected to the shooting death of a young man in the southern Kemp Road area in 2015.
Investigations continue.