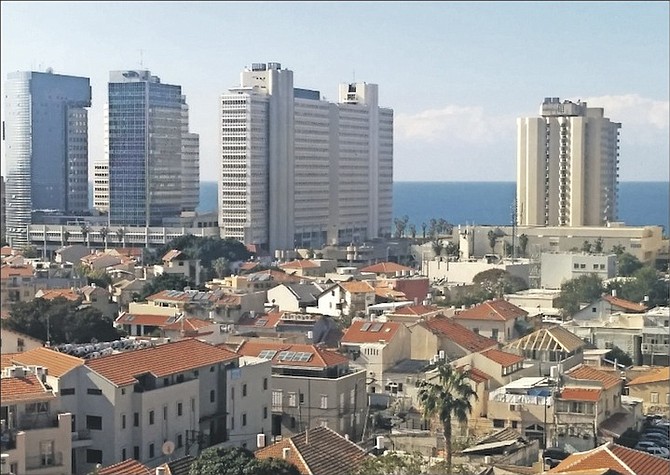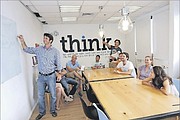 Sancheska Dorsett finds the Bahamas has much to learn when it comes to progressive entrepreneurial spirit after her visit to Israel . . .
I had no idea what to expect when I headed to Israel last month.
Of course, I relished the opportunity and was excited to experience a new culture, but with each new experience comes the apprehension of facing the unknown. That fear was compounded by hordes of negative comments when I told friends and family I was headed to the Holy land. Some of these comments included (but were not limited to): "be safe, don't get blown up" and - my personal favourite - "Girl, you know they in war?"
Nonetheless, apprehension aside, I packed my bags and dived headfirst into one of the greatest experiences of my life. After five intense days and my own gonzo journalism experience with other media professionals from the Caribbean, my perception of Jerusalem (old and new), Tel Aviv, Nazareth and my view of the "Birthplace of Christ" completely changed. While the threat of being caught between the crossfire of one of the many countries that oppose Israel never really leaves your thoughts, it was almost always overpowered by the culture, the technological progression and the demeanour of the people of one of the most progressive countries I have ever visited.
The Bahamas is beautiful. For a small island nation independent for 43 years and with a population of just under 350,000, we have come a very long way. However, after visiting a place that has more startups per capita than any other country in the world and attracts more venture capital firms per person than anywhere on the planet, you realise how much further our little archipelago has to go. To get there, there is a lot we can learn from Israel.
At time it seems as if we have forgotten who we are, where we came from and the potential that lies within every Bahamian. Tourism is our number one industry and we have been flourishing for decades due to our natural resources. We have mastered "service" so much so that most of the jobs available to our people are either in or directly related to tourism. With a heavy investment in one area, that means if tourism fails our economy fails. However, there are ways we can guard against this by diversifying our portfolio.
The first lesson we can learn from Israel: how to invest in your people.
Israel has the highest concentration of startups outside Silicon Valley, USA, and the government's focus on creating a culture of innovation has been integral in establishing a vibrant ecosystem for startups to thrive.
In Tel Aviv, I visited a co-working area called "The Library". Mira Marcus, International Press Director at the Tel Aviv Municipality and our tour guide for the day, explained the purpose of the building and the genesis of the name. The building used to be a public library but suffered from a lack of use. However, an investment from City Hall led to its refurbishment. Most of the books were removed (some kept for aesthetics) and an open space was created, with up to 60 workplaces for entrepreneurs to develop Internet startups and technologically advanced companies. In addition, The Library hosts networking events, meetings and professional infrastructure for young technological visionaries.
The biggest requirement are that startups become involved in some aspect of civic innovation, whether it's focusing on improving city services or urban quality of life. That's it: the lone stipulation. For about $76 a month, entrepreneurs have unlimited access to work spaces as their ideas move from dreams to reality.
Mrs Marcus explained that at the core of the Israeli innovation policy is the Chief Scientist's matching grants programme. Through this initiative, firms submit research and development proposals to the Chief Scientist, and grants are awarded on a competitive basis, with between 66 per cent and 90 per cent of the research costs covered.
"For companies, if they (the government) believes that they are good companies in an aspect of good technology and they have a good team, good potential good market, they will loan you back and you pay it back just from profit," she said. "So the government takes a risk and it helps young companies have seed money. The maximum they will do is match money you bring from other sources because the government will never take the full risk but It is very helpful."
Mrs Marcus also said she believes Israel's compulsory military service is one of the reasons there are lots of successful businesses thriving in the country because the military not only provides early training in sophisticated technologies but it also teaches responsibly and courage.
"There is a mandatory service in Israel for men and for women. So first of all, a lot of men and women go into the army and get technological knowledge. They work in intelligence and get knowledge they could never get anywhere else. Secondly you gain an extreme amount of courage form going into the army," she said.
"I was only 18 when I went into the army and I was on the bomb squad. I taught my soldiers how to take apart bombs. So here I am, 18, and I have the responsibility of the lives of my soldiers in my hands and I need to tell them over the radio if it's the red wire or the black wire ... by the way it's always the red wire ... but think how much I grew up and what a responsibility I had. The lives of people were in my hands. So when you come out of the army after doing that, you are capable of everything. I can invent anything, I can begin a startup and you think that you are invincible. So that's the army side of the reason why these phenomena of startups are taking over."
Mrs Marcus also said that the country's "acceptance of failure" makes it easy for people to start their own companies because persistence and perseverance have become culturally ingrained in all aspects of society.
"It is very accepted in Tel Aviv to fail. There are a lot of societies, say Japan, that if you fail, you leave face and it's a shame. Here it's very very accepted," she explained. "If I sit with my aunt and I tell her I worked at a company, I got a salary and then I quit and I decided to open my own company and have a startup and I raised money and I had to close after a year because it wasn't good enough, she would say 'ok, what is your next idea'. It is very common, very accepted, and CEO's of startups proudly tell how they failed.

"There is a big startup in Tel Aviv called Wix. It started very small and the CEO will tell you, when ever he speaks, he tells the story on how his first idea failed horribly and the second time it was awful and he went bankrupt and his wife divorced him and the third startup was Wix and now he is a billionaire. So he is very happy that he could fail twice in order to get to Wix and be successful."
Can you imagine if our government invested in us? I mean really invested in us? Gave us working space, capital and believed we could be involved in more than just the hospitality industry?
The potential for success is endless. By the way, Tel Aviv has a population of around 400,000. So, if they can do it, why can't we?
If you needed proof of the the power of entrepreneurship created in Israel, Google this list of powerful companies: Wix, Pixie, ZUtAlabs, Zebra, Vroom, Mobileye, Vyber, Waze and Gett. All multimillion dollar companies, all started in Israel.
NEXT MONTH: why I think the Bahamas needs a similar model to Israel's compulsory military service and the amazing benefits it can have for our little country.
• Comments and responses to sdorsett@tribunemedia.net