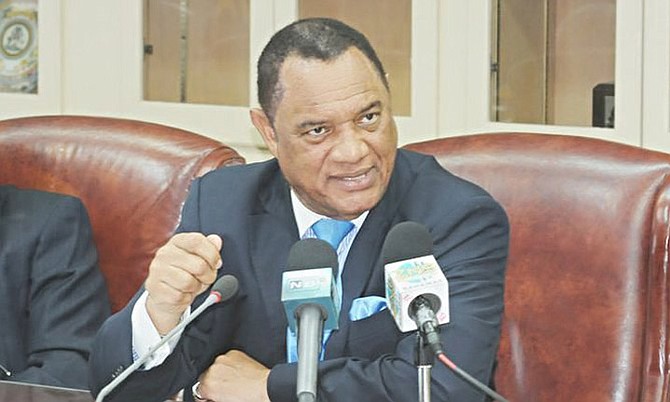 By RICARDO WELLS
Tribune Staff Reporter
rwells@tribunemedia.net
AS he gears up for a leadership challenge at the Progressive Liberal Party's first convention since 2009, Prime Minister Perry Christie spoke of his energy and eagerness to serve another term, as he urged party supporters not to "squander" the opportunity to win the general election.
Speaking before a crowd of jubilant supporters at a PLP Women's Branch meeting yesterday, Mr Christie brushed off his critics as he spoke of plans his administration looks to finalise before voters head to the polls this year.
Highlighting many of his party's achievements, Mr Christie contended that the PLP has done and continues to do "everything possible to move The Bahamas forward". He also urged party supporters to show the country how strong and unified the PLP is at its upcoming convention.
He suggested that despite efforts by a section of his party to unseat him as leader, he will not relent in the forward progress of the country, nor his political work.
Touching on details of several initiatives including airports in North Eleuthera and Exuma, plans to construct a modern care facility for children with special needs and disabilities, and multiple public/private partnership agreements that would see the construction of roadways, government buildings and other national projects, Mr Christie declared that the "work of country" would not slow due to "those that challenge our progress."
"We in this democracy do not run away from the fact that we encourage people to know that this party does not stand in your way," he said.
"We do not force people to be what they do not want to be. This is a party that allows the free rein of your thinking, of your reasoning and of your decision-making."
Mr Christie, noting several of the recent stops he had made on his campaign trail, stated that he has made a point not to ask for, or request the support of those that he comes in contact with; opting instead to remind persons of the work he and his team have done.
Addressing his visit to Eleuthera on Saturday Mr Christie said: "I indicated to the audience that I was gratified that the Hon Philip Bethel came in to indicate that he didn't understand why a son of the soil had to come (there) to the island of Eleuthera and request support."
He continued: "Because the answer was clear to him. Oswald Ingraham said the same. I was accompanied by Ken Dorsett of Southern Shores and he said the same.
"We also had the youngest member of our fraternity in Parliament, Dion Smith and he said the same. Danny (Johnson) who was coordinating the campaign said the same and Damian (Gomez) who was present said the same.
"But I told them that I wouldn't want to have to ask any of them to support me, but I am coming by way of courtesy to let them know, that this me.
"You know over the years that I stood with you, all through the winter months of opposition, all through to the mountain top of victory. We were in this room sharing experiences, praying, hoping, committing ourselves to the development of our country and the upliftment of our people.
"We formed a partnership. Now on the eve of going to convention to signal to the country how very strong we are, we have to pause and give you another opportunity to determine how you want to present; to determine whether or not you want - you know the rest," Mr Christie said.
"Tomorrow morning we fly to Bimini and take a boat to a place called Ocean Cay and we put some shovels in the ground to signal that construction will start there on a new development. But because I am in a contest, I have to break away and fly to another part of the Bahamas; I am not going to tell them where because yesterday they sent some people to my meeting.
"But I will fly to another part of the Bahamas to present myself to the people there before they come to convention, to by way of courtesy let them know that this is me."
Mr Christie, 73, said despite his age, a factor that his been debated heavily during the government's current term, he is energised and ready to extend the work orchestrated by his administration.
"They ask us, where do you get the energy from? They asked me, where do you get the energy from? I tell them, that after Monday night, Tuesday morning I will be making another important speech to the government, I then go to hold the Cabinet and Tuesday evening I go to another place in the Commonwealth of the Bahamas because that is the only time I am going to be able to get there to say to the people, 'this is me.'
"And as I move around, everyone should know, unmistakably know, that I am not so much preparing for any contest at the convention, I am preparing for the next general election.
"I will do that, hopefully in most of the areas where people will come whilst I am managing the government, and so, Monday after speaking in this island where I will be in three different places (in this) big island, we are going to come back here for our candidates committee where we are going to interview one significant personality who is vying to contest a seat in the next general election.
"We are doing this so when the council meets on the 19th, we are coming in here for a short period to let you know that even the leader will be ratified that night.
"So the leader and deputy leader will be ratified on that night along with others and because of the nature of that event we are going to have a stage outside so that the those who would come out in support of us, in support of the party, to demonstrate that this is the party of strength, this is the party of unity, this is the party of heritage."
Mr Christie, delighting in the jubilant celebration of the crowd gathered at PLP's Farrington Road headquarters, sent out a clarion call to party supporters across the Bahamas, insisting that the time of battle was now.
He said his government had invested too much energy, creativity and introduced new policy innovations to modernise the country for them to "squander" the opportunity to win the next general election and go on to serve the best interest of the people.
He added: "Many times when some of my colleagues begin to bitch and complain, I ask them, I say suppose you were me?"
Making note of the vicious criticism he has faced during this current term he said: "They curse me everyday. And when they get tired of cursing me, they curse my wife and my daughter; my children. Listen, they even cursed Adam (Mr Christie's autistic son) and Adam can't even hurt a fly.
"But this is what it is all about, you have a leader with big shoulders. One who understands governance in the Commonwealth of the Bahamas and one who wears his integrity right out in the open.
"This is now the time."
Last Thursday the PLP announced that it would complete its candidate ratifications ahead of the party's national three-day convention slated for January 24 to 26.
Labour Minister Shane Gibson, who is also convention chairman, said that lingering questions on various national issues, including Baha Mar, will be discussed at the highly anticipated event.