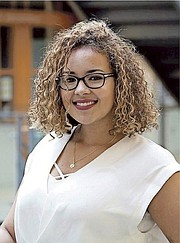 By ALESHA CADET
Tribune Features Reporter
acadet@tribunemedia.net
The desire to seek more advanced care for her sick child has led one Bahamian mother to pursue improvement in all aspects of the local healthcare system.
Bonnie Davis' daughter, Hailey Davis, was just 12 years old when she was diagnosed with acute promyelocytic leukaemia (APML), a rare form of leukaemia.
Hailey was actively involved in activities such as soccer, dance and horseback riding, and was otherwise healthy, so the diagnosis came as a shock to her family. 
In retrospect, Bonnie said she could see Hailey becoming increasingly fatigued, which prompted a visit to her doctor who ordered a blood test which showed that something was definitely wrong. Hailey was hospitalised immediately.
"Hailey was seen by the paediatric oncologist in Nassau who felt it was aplastic anaemia but would need to perform a bone marrow biopsy to confirm," she said.
"At this point her father and I decided, along with our local doctor, that she needed more advanced care, given the potential seriousness of the diagnosis. We made immediate arrangements to transfer her to the Hospital for Sick Children in Toronto, Canada. Within an hour of arrival at SickKids she was diagnosed from a blood test with APML. What jumped out at me is why there was not the capacity to accurately diagnose Hailey here in Nassau from her blood work."
This question of "why" prompted her involvement in the SickKids - Caribbean Initiative (SCI).
Bonnie said she hopes to assist in improving all aspects of the Bahamian healthcare system involved when treating a child with cancer.  
SCI is widely known as a not-for-profit collaboration between the Centre for Global Child Health at the Hospital for Sick Children (SickKids) in Toronto and seven Caribbean institutions across six countries, such as the Bahamas, Barbados, Jamaica, St Lucia, St Vincent and the Grenadines and Trinidad and Tobago. The organisation strives to improve the diagnosis, outcomes and quality of life for children with cancer and blood disorders.
Moreover, the initiative establishes partnerships between health care specialists at SickKids and their counterparts in the Caribbean, using training and education, including regular telemedicine case rounds, enhanced diagnostic services, and paediatric cancer registries to support the early identification and treatment.
"I found it unacceptable that the outcomes for children in the Caribbean, the Bahamas included, were far below the outcomes in the United States and Canada. So being involved with SickKids and their amazing team proved to be a perfect fit. Thus began a series of planning meetings and fundraising which was highly successful reaching the financial target within the first year of onset," said Bonnie.
"It's very important to try and make a difference. In fact, I see it as our obligation to try and help others, pay it forward. I just could not turn my back on the stark difference in care between Bahamas and Canada," said Bonnie.
She is happy to share that Hailey is now a very healthy 21-year-old and remains in remission. She is exploring new ways to keep herself active such as running, kickboxing, studying marine life, travelling and exploring different cultures around the world. She continues to be involved with SickKids, helping any way she can. 
"Coming from firsthand experience, Hailey believes the Caribbean Initiative that SickKids is leading is an amazing way for Caribbean medical professionals to access world renowned doctors and high quality information so that they can give a fighting chance to those affected by blood cancers," said Bonnie.
"After being facilitated in both the hospital in Nassau and the hospital in Toronto, at the age of 12 she noticed a distinct difference. She believes no matter the level of medical professional – a nurse, a general doctor, pathologist, pharmacist or an oncologist – there is always more room for improvement for the betterment of the patient, and the Caribbean Initiative allows this to happen."
While Bonnie and Hailey share a success story, tragically there are many that have experienced a different outcome.
"I would encourage parents if you see your child is fatigued, or for example not recovering from a common cold, then request further investigation. Don't be afraid to ask questions and get answers. If you don't feel you are getting the answers you want then see someone else. Be assertive. It just may save your child's life," said Bonnie.
Do you have a medical story to share? Sent it to ishare@tribunemedia.net