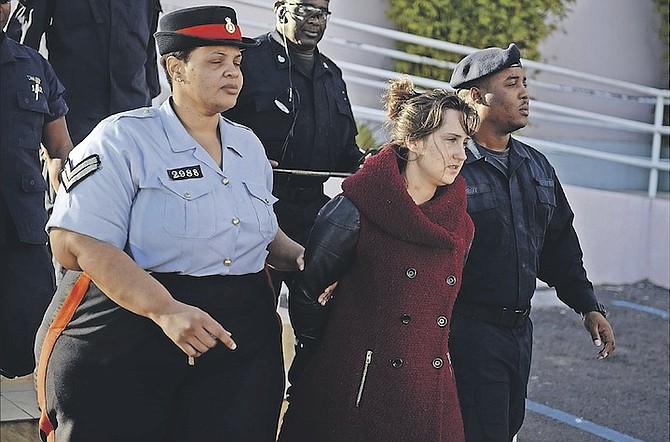 By LAMECH JOHNSON
Tribune Staff Reporter
ljohnson@tribunemedia.net
A FRENCH-Canadian woman accused of sexually assaulting a minor is expected to have her case transferred to the Supreme Court next month.
Karine Gagne, 23, of Quebec, Canada, returned before Chief Magistrate Joyann Ferguson-Pratt yesterday for a status hearing where her prospective lawyers, Lisa Bostwick-Dean and Tavarie Smith indicated to the court that they'd expected a prosecutor from the Office of the Attorney General to present the Voluntary Bill of Indictment that would facilitate the transfer of Gagne's case to the Supreme Court.
However, Chief Magistrate Ferguson-Pratt said the expectation was "unrealistic" as VBI's can take between six to eight weeks to prepare and serve.
Gagne has been charged under Section 11(1)(a) of the Sexual Offences Act, Chapter 99 which reads: "Any person who has unlawful sexual intercourse with any person being of or above 14 years of age and under 16 years of age, whether with or without the consent of the person with whom he had unlawful sexual intercourse is guilty of an offence and liable to imprisonment for life."
Section four of the Act notes that sexual intercourse includes "(a) sexual connection occasioned by any degree of penetration of the vagina of any person or anus of any person, or by the stimulation of the vulva of any person or anus of any person, by or with - (i) any part of the body of another person; or (ii) any object used by another person, except where the penetration or stimulation is carried out for proper medical purposes; and (b) sexual connection occasioned by the introduction of any part of the penis of any person into the mouth of another person, and any reference in this Act to the act of having sexual intercourse includes a reference to any stage or continuation of that act."
The accused was told at her first court appearance last week that she would not be allowed to enter a plea until she is formally arraigned before a judge of the Supreme Court when the matter is forwarded to the higher court.
Bostwick-Dean yesterday told Chief Magistrate Ferguson-Pratt that upon Bostwick & Bostwick's formal retaining in the matter, they would make an application to Supreme Court for bail.
"This defendant has a very strong defence as it may be negligence on the part of the cruiseline for allowing the virtual complainant to have access to activities reserved for adults," the lawyer said.
Mrs Bostwick-Dean also wished to inform the court that her client had recently undergone surgery in Quebec for medical condition that required "special dietary needs" that the Department of Correctional Services could not provide and its denial would be adverse to her recovery.
Gagne's next Magistrate Court appearance is scheduled for February 3 where it is expected that she will have her matter transferred to the Supreme Court.
Her remand at the prison continues.