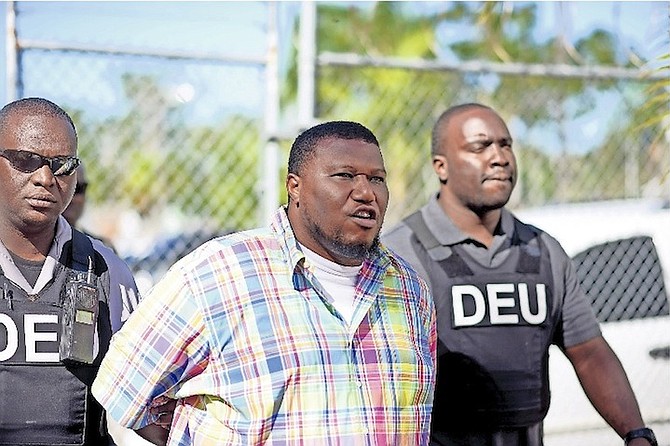 By LAMECH JOHNSON
Tribune Staff Reporter
ljohnson@tribunemedia.net
A SECOND man was arraigned in Magistrate's Court yesterday in connection with a $250,000 cocaine seizure that occurred last week in western New Providence.
Desno Scott, 43, of Faith Avenue appeared before Magistrate Andrew Forbes facing a count each of possession of dangerous drugs with intent to supply and conspiracy to possess dangerous drugs with intent to supply.
It is alleged that he and 40-year-old Avery Sergeant were a part of a drug trafficking plot and were found in possession of cocaine with intent to supply on January 10.
According to police reports, around 3.30pm, Drug Enforcement Unit officers acted on a tip, which led them to Skyline Drive.
Police allegedly observed a man with a large plastic bag in his hand run from a silver coloured Nissan Note vehicle into the nearby bushes. The vehicle with two men inside then sped off, according to earlier police reports. After a short foot chase the officers caught the suspect who ran into the bushes and found him with five taped packages of cocaine.
The suspect was subsequently arrested. The other two suspects abandoned the vehicle after it crashed in the nearby area.
Later that day, Drug Enforcement Officers conducted a search of an apartment occupied by the suspect and found eight additional taped packages of cocaine.
The estimated weight of the drugs is 20 pounds and estimated value of $250,000.
Like Sergeant at an earlier arraignment held on January 13, Scott yesterday denied committing any crime when called on to answer the allegation.
He returns to Magistrate's Court on March 13 for the start of the trial.
As the magistrate did not have the discretion to consider bail on the charge, Scott was remanded to the Department of Correctional Services to await trial.
However, he was advised of his right to apply for a bail bond in the Supreme Court.
The pair could face a fine and/or seven years imprisonment if convicted.
Both have retained attorneys Ian Cargill and David Cash to represent them.
Supt Ercell Dorsett is prosecuting the case.