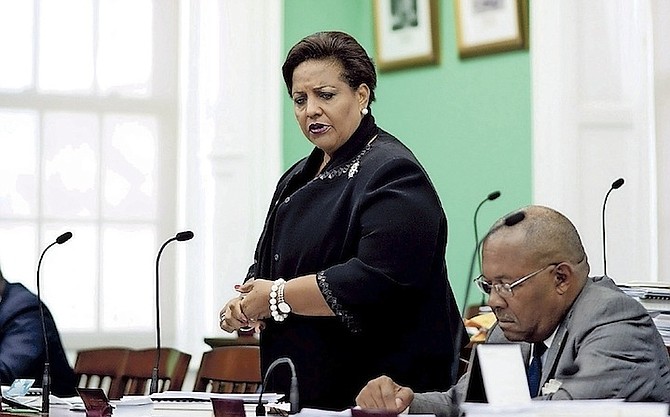 By KHRISNA VIRGIL
Deputy Chief Reporter
kvirgil@tribunemedia.net
DESPITE facing considerable time constraints with an election date pending, Official Opposition Leader Loretta Butler-Turner revealed that the Public Accounts Committee plans to probe several matters of national interest, including Value-Added Tax (VAT) collected and the concessions agreed to restart the Baha Mar development.
She said the PAC expects to call the financial secretary before the group regarding the VAT funds. Simon Wilson is acting in this capacity.
Mrs Butler-Turner, who is also chairman of the PAC, said The Pointe heads of agreement also will be a focus of the committee, which has the power to send for persons, papers and records.
In the House of Assembly yesterday, the Long Island MP regretted that despite an assurance from Prime Minister Perry Christie ahead of the parliamentary holiday recess that The Pointe's heads of agreement would be tabled, this had not been done.
Mr Christie, she said, had promised to lay the document on the table at the first House session, which was last week.
"Mr Speaker, it's important that we as legislators and the Bahamian people in particular know exactly what agreements the government of The Bahamas is entering to on our behalf," Mrs Butler-Turner said. "We heard final statements from ministers today. There was a report from the Minister of Health (Dr Perry Gomez) on something that happened last year at PAHO.
"Mr Speaker, it's important that we not lose track of the things that are promised to us and one of them certainly is the fact that we should have the heads of agreement tabled for The Pointe. The garage or the parking centre is obviously completed. I imagine from all of the banners that I am seeing as I drive along West Bay Street that they are getting ready to start some construction. I see that we have arrived at the point where all of the PR (public relations) is taking place, but yet we have no heads of agreement and certainly there are concessions that are being provided. We the Bahamian people still do not know.
"For instance, the next point Mr Speaker, I understand from the dailies that there is now a process for people to be hired at the Baha Mar which is fine, not a problem. But we have yet, Mr Speaker, in this place to see the revised heads of agreement with regards to what's happening at Baha Mar. We are just hearing everything about the concessions that are being provided and we have nothing which we could look at so we can say definitively as honourable members of this House to our constituents and the wider public exactly what is going on in the name of the Bahamian people."
She continued: "Mr Speaker, we have got to be able to know this. Election season apparently is upon us and we are hoping that this doesn't just get swept up in the euphoria of partying and people promoting themselves for re-election. It is important that the Bahamian people be made aware.
"So, Mr Speaker, since it appears that we can't get items tabled in this House of Assembly for us to be able to see what is being done in the name of the Bahamian people, we will be convening the PAC committee very shortly and, Mr Speaker, I'd like to advise you that there are certain things that the PAC will be looking to seek answers to because it's been so long in coming."
"For example, we will definitely be questioning the financial secretary with regards to the VAT funds which have been collected to date and we would like to be able to report back to the Bahamian people the manner in which they have in fact been spent. Also, Mr Speaker, we believe that there are other areas that the PAC will certainly be convening to have questions on.
"So, Mr Speaker, I say all of that because in members' statements, I figured we would have had some information forthcoming and we sat here patiently and yet we await that heads of agreement. So PAC will now do much of what we cannot get answers to," she added.
The Pointe, a multi-million development, is being constructed by its owner, China Construction America (CCA). CCA also owns the adjacent British Colonial Hilton property and is Baha Mar's main contractor.
Last week, the MP told Tribune Business that she was especially keen to confirm what had been agreed between the government and CCA over the ratio of Bahamian to Chinese workers on the construction, plus other aspects of the investment project.