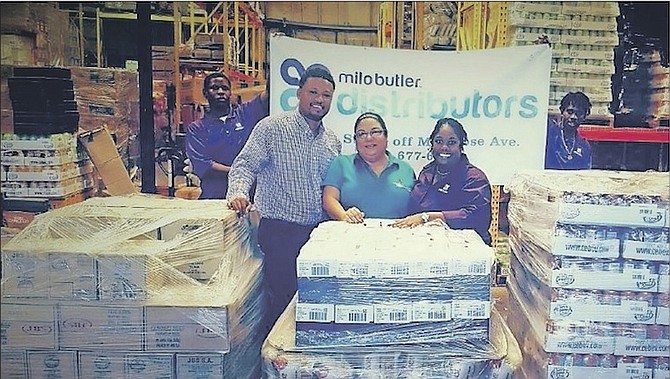 BAHAMIANS still impacted by the effects of Hurricane Matthew last October on will benefit from a donation by Milo Butler Distributors, the wholesale grocer, which has partnered with the Bahamas Red Cross and the HeadKnowles Hurricane Relief Group to give food supplies worth $10,000 to assist with continued relief efforts.
More than three months after the category four storm made landfall, residents on the impacted islands continue to rebuild their lives. The process requires continued support from the Bahamian community. Recognising this need, Milo Butler stepped in to assist and send supplies, with the warehouse team stacking pallets of rice, sugar, juice and a variety of canned goods to be shipped to Grand Bahama and communities in the southern Bahamas.
Franklyn Butler, Managing Director of the Milo Butler Group of Companies, hopes the donations to the Bahamas Red Cross and HeadKnowles will lessen the burdens faced in the aftermath of Hurricane Matthew. "Both organisations have demonstrated their commitment to advancing the recovery efforts in the wake of this devastating storm. We know that the road ahead is long and full recovery requires continued support. As a company, we are committed to assisting where we can," Mr Butler said.
For more than 50 years, the Bahamas Red Cross Society has worked to improve communities through its humanitarian goals including the collection and distribution of supplies after natural disasters. The group thanked Milo Butler for its much-needed donation of food supplies.
HeadKnowles co-founder Gina Knowles also thanked the company for assisting with their cause. The group's strong volunteer network quickly mobilised critical supplies to impacted areas including food, water and building material to islands in the southern Bahamas.