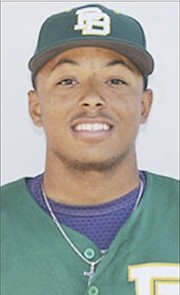 By RENALDO DORSETT
Sports Reporter
rdorsett@tribunemedia.net
LOOKING to build on his All-Star effort of last season, Todd Isaacs Jr looks to elevate his game and his place in the Cleveland Indians organisation.
As he heads into next season, the 20-year-old outfielder said his next assignment will be dictated by the work he has put into the offseason and his performance in spring training next month.
"It all depends on how I do in spring training. I'm preparing everyday. Working hard everyday just trying to make sure I'm mentally and physically ready everyday. They tell you to come to spring training ready, don't come there to get ready. From day one to camp's break you have to be getting after it," he said.
"My offseason training is really intense. I do most of my training at this facility in Miami and they really get me ready. They push me to every limit. Everyday it's something tougher and much harder on us but they help me to get ready and to stay durable the whole year. The training I get in the US is on another level but we do our best when we're home in the gyms, we run the beach and we hit the field everyday so we try our best to incorporate that but it's nothing like what we get over there."
Isaacs was selected to the All-Star roster in the New York Penn League where he hit .333 with 20 RBI, six home runs, 14 stolen bases and an .898 OPS for the Mahoning Valley Scrappers in the Class A Short Season.
"This whole year, the sequences of events have worked out in my favour. Out of spring training I went to extended which is 30 more games. Basically they don't keep stats but it's a grind so you go out there early in the mornings, practice, get the work in and play games," he said. "The whole time I started to learn more about myself, more about my swing but my eyes started to open up to the different parts of my game I can control and work on. I was always a person that would go in the cage and just hit thinking I'm fixing something but I never really understood what I was doing. One day I had a conversation with my coach – he asked me my end goal in baseball and I told him to be the first ever Hall of Famer out of the Bahamas. He said you have to play everyday as a stepping-stone to getting to that goal one day."
His improvement with the Scrappers followed a struggle in the Arizona Rookie League where he hit just .214 in 34 games.
Isaacs called it a "humbling experience" but one that was necessary for his growth and development as a player.
"It was tough. All my life I had been able to fit in on teams and automatically create my persona on the team and almost be the man. When I went to Arizona it was a step back. I wasn't playing everyday, I wasn't doing well, I didn't know what was going on, I wasn't playing my position. There were so many things that were going the wrong way and I took it the wrong way so I just dug myself into a deeper hole," he sai.
"I needed that to humble me to show me that you have to compete everyday. You can't go out there and think they have to give it to you. You really have to go out there and earn that so everyday I go out there I work hard thinking about what I felt back then and I never ever want to feel that ever again. So that's' what motivates me to keep moving forward and making sure that I create my persona as a leader on a team and someone you can count on. I'm thankful that it happened early in my career. I was able to bounce back and had the year I had and I'm able to keep going.
Isaacs was chosen by the Cleveland Indians in the 19th round as the 574th selection of the 2015 MLB Draft, following a critically acclaimed year with the Palm Beach State Community College Panthers.
In 2014, he was originally drafted by the Toronto Bluejays in round 22 at No.654 but opted to attend Palm Beach State rather than pursue the club's farm system directly out of high school. In 57 games, his lone season with the Panthers, Isaacs hit .330 with 40 runs scored, 30 RBI and 31 stolen bases.
"Just to play pro ball is so exciting. We all get caught up in it. But at the end of the day if you aren't ready you will feel like you made the biggest mistake of your life. I try to tell younger players to just be patient. If it doesn't happen the way you want it to happen right away just keep working. It'll happen in God's time. I think my story has helped a lot of guys to realize if you don't get that first opportunity right away, it's ok. Continue to get better, continue to progress and it'll happen."
Isaacs and his fellow professional players that were developed through the Freedom Farm Baseball League continue to establish a presence at the complex while home on postseason breaks.
"It's important for me because when I was young playing at Freedom Farm they had this big board with all of the names of the pro athletes or in college and in high school. I always used to look up there and hope that my name made it up there so that was my motivation going through Freedom Farm," he said, "When I come back now and speak to the kids I just try to tell them they can be in my shoes everyday if they keep working. I think the kids really enjoy us being around and it's a humbling experience for me because a few years ago it was me doing that to guys like Antoan [Richardson] and Albert [Cartwright]."