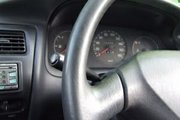 By DENISE MAYCOCK
Tribune Freeport Reporter
dmaycock@tribunemedia.net
ROAD Traffic officials are in discussions about the introduction of a points system against traffic violators, according to a Road Traffic Controller Ross Smith.

While in Grand Bahama to introduce the new automated system for the island, Mr Smith said: "Under the new Act we are in discussions about that right now. It is in second draft form and in the Act we are trying to introduce a point system to ensure we have better drivers on the road."
He noted that the points system would be linked with police activities.

"We want to ensure persons adhere to the rules and regulations, and the system would be linked to the police but it would be shown in our system - we would have access to it."
He also stated that if the court suspends someone's license, the Road Traffic Department would be able to see this information.
In the US, most states operate a points system to track dangerous and careless drivers, and also those who commit traffic violations. Officials in the US take action against the driver's license based on severity of the violation.
After a specific number of points, a person's license can be suspended or revoked, and to get the license reinstated will mean paying hundreds of dollars in fines.
When asked about the unavailability of driver's licences to the public because of problems with the driver's license machine in Freeport, Mr Smith said that there are times when the equipment may break down.

"Those times are challenging times for us and we want the public to understand that issues may arise, but those are going to be minimal," he said.
When asked about the shortage of license plates in Grand Bahama, Mr Smith said there has always been an issue with the plates because when people sell their cars or if their vehicles break down, they leave the plate on the car and get rid of it when those plates can be reused.
"And we have to wait until the (new) plates can be printed," he said.
Mr Smith said officials do not expect any shortages with the new license plates that will be issued under the new automated system.
"At the initial stage we have plates for everyone, and we don't want a mad rush of persons coming in for plates. We want them to come in the month they were born. We want them to keep the current license plate until it expires," he said.