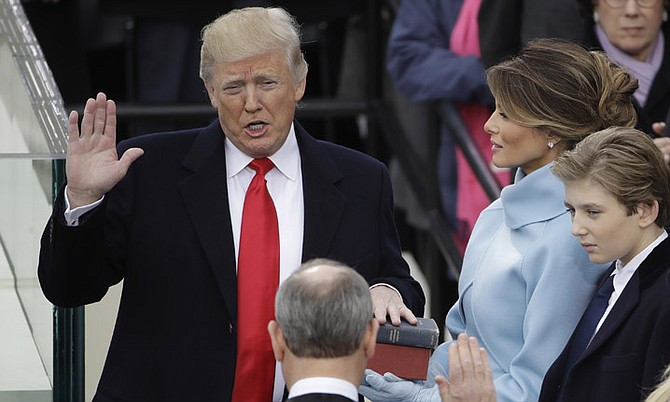 WASHINGTON (AP) — Pledging to empower America's "forgotten men and women," Donald Trump was sworn in as the 45th president of the United States Friday, taking command of a deeply divided nation and ushering in an unpredictable era in Washington. His victory gives Republicans control of the White House for the first time in eight years.
Looking out over the crowd sprawled across the National Mall, Trump painted a bleak picture of the nation he now leads, lamenting "American carnage," shuttered factories and depleted U.S. leadership. President Barack Obama, the man he replaced, sat behind him stoically.
Trump's first words as commander in chief were an unapologetic reprisal of the economic populism and nationalism that fueled his improbable campaign. He vowed to stir "new national pride," bring jobs back to the United States, and "eradicate completely" Islamic terrorism.
"From this day forward, a new vision will govern our land. From this day forward, it's going to be only, 'America First," Trump said in a 16-minute address.
In a remarkable scene, Trump ripped into Washington's longtime leaders as he stood among them at the U.S. Capitol. For too long, he said, "a small group in our nation's Capital has reaped the rewards of government while the people have borne the cost."
For Republicans eager to be back in the White House, there was little mention of the party's bedrock principles: small government, social conservativism and robust American leadership around the world. Trump, who is taking office as one of the most unpopular incoming presidents in modern history, made only oblique references to those who may be infuriated and fearful of his presidency.
"To all Americans in every city near and far, small and large from mountain to mountain, from ocean to ocean, hear these words: You will never be ignored again," he said.
Trump was sworn in by Chief Justice John Roberts, reciting the 35-word oath with his hand placed upon two Bibles, one used by his family and another during President Abraham Lincoln's inauguration.
Trump and wife, Melania, bid Obama and outgoing first lady Michelle Obama farewell as they departed the Capitol grounds in a government helicopter. Trump and Obama's political paths have been linked in remarkable ways. Before running for the White House, the billionaire businessman led efforts to promote falsehoods about the 44th president's citizenship and claim on the office.
Obama addressed a staff gathering at Joint Base Andrews before departing for a vacation in California. "You proved the power of hope," he said.

JULIE PACE, AP White House Correspondent