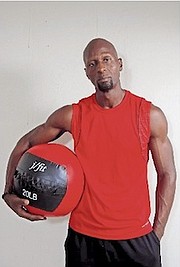 By ALESHA CADET
Tribune Features Reporter
acadet@tribunemedia.net
For the third consecutive year, the Caribbean Sweat Fitness (CSF) team will host its highly anticipated Fitness Concert at Mario's Bowling and Entertainment Palace.
This Saturday, from 6pm to midnight, fitness instructor and personal trainer Macumbla "Comby" Smith and his CSF crew will lead Bahamians in fun, Caribbean-influenced dance fitness routines.
"For years I've brought my experience as an entertainer to the aerobics room, and people love it," Mr Smith told Tribune Health.
"My vision was to take the excitement from the classroom, move it to a bigger arena and add in elements that would turn the class into a real entertainment experience. Back in 2002, I had this vision of being on stage in front of a large crowd doing my fitness routines. When Caliope Sandiford joined the team in 2013 she added structure, expanded and further developed the vision. We're now one step closer to the realisation of the vision."
Mr Smith said CSF's long-term aim is to also change the nation's attitude towards fitness by presenting it as a fun activity, and subsequently have it play a big role in the fight against overweight and obesity. 
"In my regular classes I offer a high-energy aerobic workout, but first and foremost I sell fun. In the concert atmosphere I slow the pace a little to encourage people to join in. I allow people to move and enjoy the workout. All of my routines are choreographed to popular Caribbean beats. I've been doing this for some 14 years and I believe I was one of the first, if not the first to bring Junkanoo to the aerobics room," he said.
Mr Smith said Saturday's event is for all from the age of 14 straight up to 70; the key is to go at your own pace, have fun and enjoy yourself while moving to the beat.
"I am looking forward to the opportunity to do what I do. Entertain people and get them excited about moving. This is the road to the realisation of a life-long dream; it truly means a lot," he said.
He said he has definitely seen a lot of growth from the very first concert in 2014 to the present. While his vision has not been fully realised as yet, he said the journey has been extremely fulfilling. 
"We will get there. We just have to be consistent, persistent and continue to do what we can with what we have. Even though attitudes have come a long way in the last five years as it relates to health and wellness in the Bahamas, it still should be taken more seriously. They need to be placed on the priority list of each and every Bahamian. Fitness needs to become a lifestyle," said Mr Smith.
The event will also be held as a fundraiser for a knee replacement surgery for Mr Smith, who suffered an injury as a result of a motorcycle accident in 1999.
After 16 years of "beating Bay Street" as a free dancer of the Colours Junkanoo group and jumping across the floors of every gym on the island as an instructor, the injury is flaring up and is now in need of serious medical attention, he said.
"Bring your rag, bring your flag, come in your workout gear and wear comfortable tennis; we are going to be moving! I want to thank everyone who's contributed in any way. It's absolutely the truth that a vision cannot be carried by one person," said Comby.
Tickets are $30 at the door and $25 in advance, and are available at Club One Fitness, JLine Fitness and Diehard Games Club on Robinson Road. To register visit the website www.caribbeansweatfitness.com.