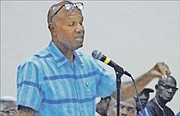 By DENISE MAYCOCK
Tribune Freeport Reporter
dmaycock@tribunemedia.net.
AT least two residents of Pinder's Point claim that their properties were damaged because of sandblasting activities at the nearby BORCO plant.
The Tribune understands that one of the residents may be considering taking legal action against the oil company for the damage allegedly caused to their home and other personal property.
Greg Laroda, a local representative for Buckeye, confirmed that he had received a complaint on January 11 from a resident of Pinder's Point concerning "dust" that was in his yard and onto the roof of his residence.

"They felt the dust was a result of us sandblasting one of our tanks and we were investigating it," he said.
Mr LaRoda said that BORCO offered to clean the house, but was turned down by the resident, who then informed him that they were looking to take civil action.
"As it stands, the resident said they plan to take civil action," he said.
Environmental advocate Shuffel Hepburn said the properties of Lowell Pinder and Grace Poitier-Pinder were covered with paint dust on January 11 when workers were sandblasting an oil tank.
He said that work was being done on tank number 8031. Mr Pinder's residence is situated just southwest of the tank in question.
"He was awakened by the loud noise of sandblasting around 7am that morning and saw clouds of black metallic dust descending on his yard and home, and the nearby properties of his neighbours around him," Mr Hepburn claimed.
According to Mr Hepburn, Mr Pinder's new metal roof and his vehicle were covered with fine dark particles that allegedly flew off the tank.
He claims that Mrs Poitier-Pinder's property, which is east of Mr Pinder, was also covered with off-white coloured dust particles from a different tank that was also being sandblasted.
"A call was made to Buckeye's vice president of public relations, Mr Laroda, who came and witnessed the damage to Mr Pinder's home. A short time later, the sandblasting halted," Mr Hepburn said.

Mr Hepburn claims that no redress had been made to Mr Pinder since his complaint.

He believes that the paint particles could be hazardous and was concerned that it could pose health danger to residents and children in the Pinder's Point and Lewis Yard communities.
Mr Hepburn said that Mrs Poitier's yard is near to the Church of the Good Shepherd compound, where the Lewis Yard Primary School students have been temporarily relocated because of hurricane damage at their school campus in Hunters.

"It is hazardous to residents, students, and teachers to be exposed to this sandblasting process. Breathing these highly toxic particles can do irreparable damage to their lungs, not to mention the impact on their eyes and skin at the very least," he said.
He said the residents of the area do not know if the paint used by the company contains lead, which can be harmful to humans.
"When one considers the fact that Buckeye has sandblasted and repainted scores of their storage tanks in recent years, one begins to understand the seriousness of the damage already done to the residents around this industrial plant by this process alone," Mr Hepburn said.
He claimed that over the years there has been no notice given to the residents in the area about sandblasting and repainting tanks.
"The residents have no idea whether the repainting process uses lead free paint or not. They have been given no information or notices which would allow them to protect themselves, their children and their properties," he said.
The Pinder's Point/Lewis Yard Environmental Committee, of which Mr Hepburn is a member, has been calling for the relocation of residents from the area because of ongoing pollution experienced, including chemical emissions and oil spills.