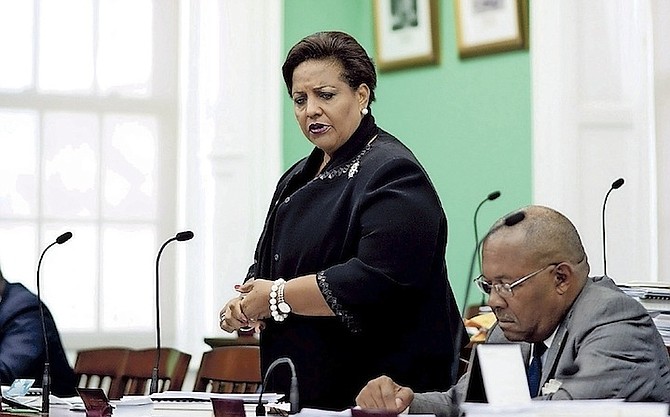 By RICARDO WELLS
Tribune Staff Reporter
rwells@tribunemedia.net
OFFICIAL Opposition Leader Loretta Butler-Turner yesterday confirmed that her bid for re-election in Long Island during the upcoming general election would be as an independent candidate, weeks after insisting that she was forming a "very powerful and bold" coalition with Senator Branville McCartney and the Democratic National Alliance.
When asked by persons on social media if she had decided to officially launch an independent bid to be re-elected, the former Free National Movement deputy leader said "certainly".
This followed an exchange on social media with several persons in which she told observers that she was "independent."
In one post, Mrs Butler-Turner wrote: "You'd know that l stand by my beliefs. How can l fight against corruption, incompetence and deceit, then join you? Hell No!"
The post ended with: "#ComingToKickButt."
It is unclear whom Mrs Butler-Turner was referring to in the post.
When contacted by The Tribune for comment on the exchange, the Long Island MP would only confirm that she was moving forward as an independent candidate.
The DNA and the Progressive Liberal Party have not yet named candidates for Long Island. When asked if her announcement had anything to do with this, Mrs Butler-Turner declined to comment.
In December 2016, after ousting FNM Leader Dr Hubert Minnis as leader of the Official Opposition in Parliament and obtaining the position, Mrs Butler-Turner appointed DNA Leader Mr McCartney as leader of opposition business in the Senate.
At the time Mrs Butler-Turner said the move was evidence that her team was willing to put the Bahamian people first to move forward to defeat the governing PLP.
Announcing the decision at the time, she insisted that she and the six FNM MPs who support her have not joined the DNA, but were working together for a "common good."
Shortly after having her ratification for the Long Island constituency revoked by the FNM's council, Mrs Butler-Turner said she believed persons are more inclined to vote for a "person" rather than a "party" in the upcoming election.
In December, the FNM ratified political novice and former Tribune columnist Adrian Gibson as the party's standard-bearer in the Long Island constituency.
Dr Minnis said he was "more than confident" that the attorney would unseat Mrs Butler-Turner in Long Island.