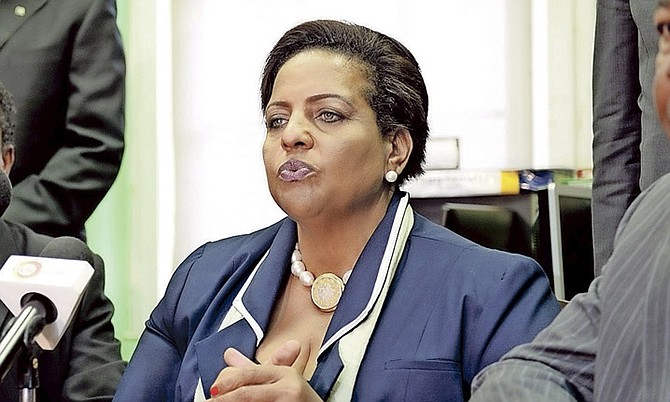 By KHRISNA VIRGIL
Deputy Chief Reporter
kvirgil@tribunemedia.net
OFFICIAL Opposition Leader Loretta Butler-Turner has said the government's revamped mortgage relief programme has no real benefit to the expansion of the economy, as she castigated Prime Minister Perry Christie for an "empty" and "delusional" victory speech.
Last week, Mr Christie revealed that the programme, which reduced monthly payments by 25 per cent, assisted 350 homeowners. Later, during his speech on Thursday night after being re-elected as Progressive Liberal Party (PLP) leader in a landslide victory, Mr Christie highlighted these efforts as proof that the government has fulfilled its many campaign promises.
However, Mrs Butler-Turner insisted that this was not the initial intention of the once failed initiative.
"Mortgage relief was a huge part of their platform," she said in a recent interview, "They said they have been able to assist 350 families with lesser payments of about 25 per cent. Now that was not the intent of mortgage relief.
"Five years ago, tons and tons of people were losing their homes. There are still thousands of people that are homeless today because they did not get the relief that they were promised during the last election.
"There is no use in having any type of programme at this stage because it only affects people that have jobs and the majority of Bahamians are without jobs or they are under employed. So that in and of itself is a very clear example of the lack of the economic expansion under this Christie administration."
The Long Island MP pinpointed this government programme while criticising the PLP over its "show" of a convention.
She said the prime minister's speech after being re-elected leader of the governing PLP was empty and showed he was completely devoid of tangible accomplishments that Bahamians can touch, see and feel.
"They sure know how to put on a good show. But at the end of the day when I was heading to Long Island there were tons and tons of yellow and blue shirts heading back to their respective islands. The party's over and they are all going back to their life of misery because there has been nothing that they articulated that they has been substantially done over the last five years absolutely nothing.
"I listened to Christie and he took us back down memory lane 64 years because he is devoid of tangibles that we can touch, see and feel. So my position is clearly that they spent a lot of money, they carried off a great show, but at the end of the day it was empty and there was nothing there for people to actually say yes this is a reason for me to be able to stick with this party."
"The prime minister is so out of touch with reality that certainly the PLP has left the Bahamian people after their carnival show convention with nothing but empty promises and a bag of wind," Mrs Butler-Turner said.